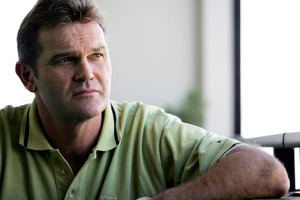 Martin Crowe says Sky TV was a "nasty snake" troubling his life alongside NZ Cricket and the cancer for which he needed chemotherapy.
The cricket legend has penned a no-holds-barred memoir called Raw, addressing everything from baldness, heartbreak and cancer to personality battles in TV and cricket.
Crowe told the Herald on Sunday yesterday that he was so affected by Ross Taylor's demotion from captain of the Black Caps, it gave him a tumour.
He said giving up his cricket addiction was a top priority. "It's a bit like an alcoholic ... I can't go back."
He barely watched cricket now, saying it was "too raw" and he had to "turn away from it and let the game unfold".
Crowe has criticised Sky before, but in Raw, he is understood to go into new detail about his time with the broadcaster. Sky bosses, including current chief executive John Fellet are discussed.
Crowe said the book was not about pointing fingers. "I needed to write down and purge why I got myself so ill."
Sky spokeswoman Kirsty Way said she had not seen the book.
"I'm not going to comment on Martin's book, except to say we all wish him the very best."
Crowe revisits the $15 million loss Sky incurred from Olympics coverage, revealed in the Herald on Sunday last year. At the time, Fellet took responsibility for the loss.
In Raw, Crowe says Sky "usually sacrificed creativity for the bottom line" but made an exception for the 2012 games coverage.
He suggested the network spent $20 million on the games.
Crowe suggests Black Cap legends including Ken Rutherford, Danny Morrison, Chris Cairns, and Scott Styris all left cricket feeling "deflated and disillusioned".
Crowe said he spent years suppressing his emotions. "Most of the time I'd shut up because people didn't really like to hear the truth."
He said he was now focused on recuperation and on talking about lymphoma, which he called a "misunderstood" cancer.