Determination to succeed overcomes health obstacle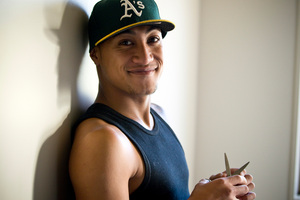 Sharp hairdresser's scissors and sudden involuntary movements may seem a bad combination, but for Frank Neru it's an obstacle he's willing to cut through.
The 19-year-old has Tourette syndrome, obsessive-compulsive disorder and motor tics.
Symptoms include sudden and repetitive movements such as twitching and neck jerking.
Despite being unable to control his movements, Neru is a qualified hairdresser.
He graduated last year from Servilles Academy of Hairdressing in Auckland with a national certificate in hairdressing but he's still unemployed.
"I'm fully qualified, but employers don't believe I can do it," says Neru. "They won't even set me up a trial.
"They think twice and judge me on it (my condition), instead of taking me on and letting me show them I can do it."
Now, he and his partner are working on setting up a support group for Tourette sufferers - something he says doesn't now exist - and he hopes to set up his own barber shop, which would serve all people, including those with disabilities.
Neru says he began to experience symptoms at 13 and he was diagnosed in 2011.
The neurological condition affects thousands of New Zealanders and is characterised by symptoms that include uncontrollable muscular tics and vocal outbursts.
Neru says having Tourette syndrome doesn't affect his hairdressing but he does have trouble persuading people to trust him with the clippers.
"I went to do a haircut at Servilles and this woman said she didn't want me to do it because she had seen me before and she didn't trust me. But the tutors told her to give me a go.
"So I had a go cutting her hair and she pretty much said it was the best haircut she had ever had."
Neru's careers manager at the academy, Mandy Scott, says his condition has never prevented him carrying out a successful cut.
"He does extraordinary barber work," she says.
Neru, who grew up in Otahuhu, says people judging him has had more of an effect on him than being diagnosed with the condition.
"I had a lot of people who would just stand there and stare or mock me when I started twitching."