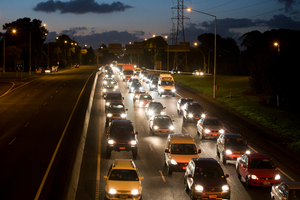 Most major roads and highways around the country are flowing tonight, as motorists head home or away for the long holiday weekend.
A spokeswoman for Auckland police said the city's motorways were "heavy''. Earlier this afternoon, two south-bound lanes on the Southern motorway were closed after a three car collision, and a crash involving two cars on the Northwestern Motorway closed part of the left lane after the St Luke's on-ramp
Minor nose-to-tail accidents had slowed traffic north of Wellington, but were causing what police described as "normal commuter delays'', and the South Island's main routes were largely clear. An accident on the Lewis Pass was not disrupting traffic.
The official holiday weekend road toll period began at 4pm today and runs through to 6am on Tuesday.
Five people died in crashes on the country's roads this week prior to the official period beginning.
This morning near Rotorua, a woman was killed as she travelled on State Highway 30 and collided with another vehicle at the intersection of Whirinaki Valley Rd.
Two people died in crashes yesterday - a motorcyclist was killed when his bike collided with a car on SH45 in Taranaki, and a teenager died and another was injured when the car they were in hit a power pole in south Wairarapa.
Emergency services said the 18-year-old driver didn't know his 17-year-old passenger was dead on the seat beside him.
On Wednesday night, a person was killed when a truck and car collided near Kaikoura, and on Tuesday a truck driver was killed and another injured when their vehicles collided in Kerikeri.
During last year's Queen's Birthday weekend there were four fatal crashes around the country, resulting in seven deaths. There were 92 reported injury crashes, 17 of which were serious.
The Ministry of Transport estimated this equated to a total social cost for the country of $37 million.
National crash risk data compiled by police indicated that crashes caused by alcohol, speed, and other bad driving behaviour tend to increase over Queen's Birthday Weekend.
Assistant Commissioner Road Policing Dave Cliff said police would be focusing on alcohol, restraints and speed this weekend, with a variety of tactics in place, including routine breath testing and a lowered 4km/h speed tolerance.
"The lowered speed tolerance was introduced at Queen's Birthday Weekend three years ago, and has been in place for all holiday weekends since. In that time, it has had a positive effect on driver behaviour, with a decrease in crashes since its introduction. That translates to fewer people killed, maimed or injured.
"We keep on pushing the speed message for several reasons: the faster you are travelling the longer it takes to react and stop; and the faster you are travelling at the point of the collision, the more likely it is to result in serious injury or death.
"It's going to be quite wet in parts of the country the next few days so remember: the old two second rule about following distances becomes four seconds when the roads are wet.''
"The message to all motorists this holiday weekend is really very simple _ drive to the conditions, pay attention, don't drink and drive and make sure you are wearing your seat belt.''
Since 2000, 88 per cent of fatal crashes on Queen's Birthday weekend have occurred on "open'', or rural, roads.
However Mr Cliff said deaths were only a part of the equation.
"Another big part of it is the serious injuries where people end up with lifelong disabilities, amputations, head injuries, spend months in the hospital and can't work, which obviously has a huge impact on families,'' he said.
"We're sitting at about 15 deaths below where we were in 2012 so while that's good, you can't rest on your laurels because if you get several crashes where multiple occupants are killed then that really raises the number.''
Queen's Birthday weekend should get off to a fine and mostly dry start for many parts of the country, but fronts pushing up the South Island mean it is likely to become wetter and more unsettled as the weekend progresses, MetService said.
On Monday, a slow-moving front was forecast to bring rain to the west and south of the South Island. Elsewhere, it should be mostly dry, apart from the south of the North Island by the end of Monday.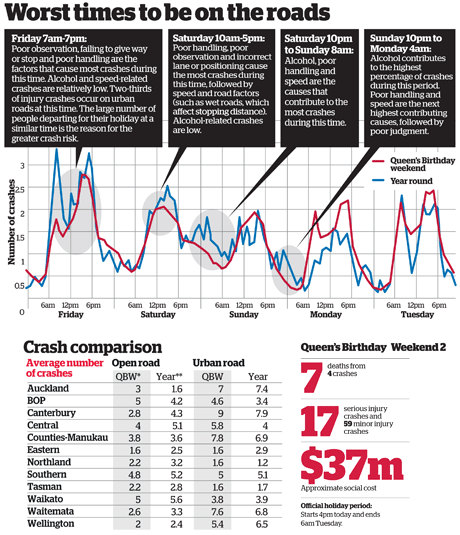 - nzherald.co.nz / APNZ