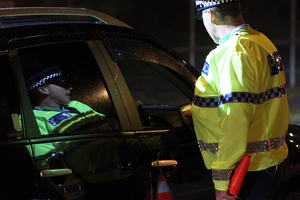 A recidivist drink-driver who was so intoxicated he didn't realise he sideswiped a parked car while towing a large boat on a trailer avoided jail today.
Keith Palmer, 40, astounded police when he gave one of the country's highest breath-alcohol readings - 1761 micrograms per litre of breath, more than four times the legal 400mcg/l limit, and a blood-alcohol reading of 385 milligrams per 100 millilitre of blood, almost five times the legal limit.
Today, a judge told the former baker, who now admits he's an alcoholic, that he could have died from such a "dangerously high'' reading.
Rangiora District Court heard that it was his sixth drink-driving conviction, and the only thing that saved him from going to jail was the fact his last conviction was in 2003.
Police said Palmer was returning to Christchurch with a mate after a fishing trip to Motunau in North Canterbury when his boat trailer clipped a parked car as he pulled into the Woodend Tavern, 25km north of Christchurch, about 4pm on December 21, last year.
Pub patrons phoned police with concerns about Palmer's driving.
Police prosecutor Stewart Sluis said he caused $800 damage to a Holden Torana he collided with.
When spoken to by police afterwards, he admitted spending the day fishing and drinking, but could offer no explanation for his driving.
Palmer said he did not know that he had hit the parked car.
When the father-of-two pleaded guilty last month, a judge told him blood-alcohol reading was "one of the highest levels I've ever seen''.
Ministry of Justice figures show only nine drivers have recorded higher breath-alcohol levels in the last three years.
Today, Judge Claire Ryan agreed it was one of the highest readings she had ever seen, adding that Palmer was "pretty close to being deceased''.
She said it was fortunate that either himself or any innocent motorists or passers-by weren't killed, given he was acting like a "complete menace on the road''.
Palmer had turned to binge-drinking after the earthquakes and the "breakdown of relationship with your previous employer'', the judge noted.
Defence counsel Keith Hales said Palmer admitted to having a significant alcohol problem, and had spent time in detox.
He now accepted he was a chronic alcoholic, and had since completed counselling with the City Mission and was attending Alcoholics Anonymous (AA) meetings, the court heard.
Judge Ryan sentenced Palmer to 12 months of supervision, with conditions to undergo an alcoholic treatment course and to continue going to his AA meetings.
She also sentenced him to four months of community detention, with a 9pm to 7am curfew, ordered him to pay $800 in reparation, and disqualified him from holding or obtaining a driver's licence for 15 months.
- APNZ