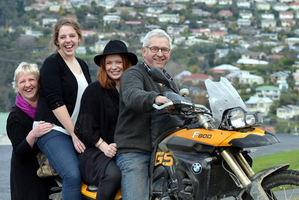 When Georgie Evans says this weekend's Otago Motorcycle Club's Brass Monkey Rally is a "whole family affair" she is speaking literally.
Her father, Stu Evans, is the site manager and as part of the organising committee headed to the Idaburn Dam in Oturehua last night on his BMW F800GS.
Her mother Adele, took Georgie, 21, and sister Louise, 19, by car yesterday morning.
And not to be left out, oldest sister Charlotte, 24, will head over from Queenstown to help her mum with the secretarial side of hosting about 1500 motorcyclists for the two-day event. The two youngest Evans sisters will man the soup tent and keep the organisers fed.
Mr Evans, who has made the Oturehua trip for the past 26 years, said it was "nice to have the help" from his wife and daughters and good to see them all involved in the same club.
Georgie has been to about seven Brass Monkey Rallies, three of which she travelled to on the back of her father's motorbike, starting when she was 12.
She still remembers the extreme cold at her first rally, which has a reputation for recording sub-zero temperatures.
"It was snowing and there was a huge hoar frost as well," she said.
Organising committee member John Willems said as weather forecasts go "Saturday doesn't look too bad" this year, although the traditional bonfire that night should keep the cold at bay.
About 528 riders had pre-entered but that figure could usually be nearly trebled to find the number of motorcyclists who would turn up to enjoy the bands, events and displays, Mr Willems said.
Central Otago police are advising motorcyclists attending the rally to exercise caution while travelling on State Highway 85 between Alexandra and Palmerston and the Ida Valley-Omakau Rd due to road grit which was laid because of the cold weather this week.
Senior Constable Darren Cox, of Omakau, said police were working with roading authorities to identify potentially hazardous areas and have them swept, but caution by road users remained necessary to ensure a safe journey.
"Remember, headlights on while travelling, be safe, be seen and enjoy your weekend," Snr Const Cox said.