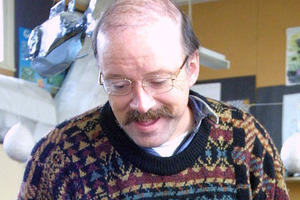 The cartoonist whose drawings depict overweight brown-skinned adults exploiting the Government's breakfast in schools programme says he has received hate mail.
Al Nisbet's cartoons have drawn widespread criticism, with Race Relations Commissioner Dame Susan Devoy saying she found them personally offensive.
Mr Nisbet told TVNZ's Breakfast programme that he had received hate mail since the cartoons were published in South Island newspapers the Press and the Marlborough Express.
"I've had a few hate mails but I've also had a lot of support too."
He said he thought the country had got too "PC" and that cartoons were just there to get a laugh.
"I'm lucky I've got such great editors who are willing to take a risk and give me a bit of a free rein with a lot of the stuff I do."
When asked whether the editors should apologise he said: "I don't see why they should do really."
"I don't do cartoons out to offend people, but I certainly want to provoke reaction."
He said he stood by the cartoons: "Absolutely, it's a cartoon, it's lighthearted. I get really worried when humour gets pulled over like this."
One of the drawings, published in the Marlborough Express, appeared to show a group of brown-skinned adults in school uniforms taking advantage of the breakfast in schools programme to save money for cigarettes, alcohol and pokies.
The other cartoon, printed in The Press, showed a Maori or Polynesian family discussing how great the free breakfast programme would be to help them ease their poverty, while sitting in front of lottery tickets, cigarettes and empty beer cans.
Cartoonist Tom Scott agreed that the images were offensive, but he defended Mr Nisbet's right to draw them.
"My view is that a cartoonist is basically an extension of the ancient court jester where you mock the rich and the powerful for the amusement of the masses," he told Radio New Zealand this morning.
"I don't tend to mock the more helpless people in our society, but he's allowed to - he's hired as a cartoonist to have a point of view. I wouldn't have drawn it, I don't think it's particularly funny, but he's entitled to do that sort of thing."
Mr Nisbet's cartoons were slammed as racist on Twitter, with some calling for an apology from the newspapers.
Ben Hurley described one of the cartoons "racist in a hurry".
Green MP Catherine Delahunty tweeted: "Thanks Marlborough Express 4 reinforcing racist, anti poor people and larger people meme - we really needed that".
Maori Party MP Te Ururoa Flavell said the cartoon was "racist, full stop".
"In that case, get rid of it. Get it out of our newspapers and apologise, fess up and move on."
Read more: Cartoonist won't apologise for 'racist' images
- APNZ