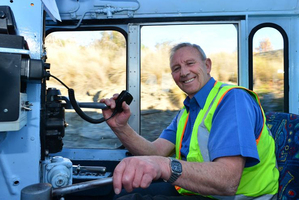 It is the end of the line for Outram train driver Ken Sloper.
The lifelong railways enthusiast will make his last trip between Dunedin and Pukerangi as Taieri Gorge Railway's senior driver today.
Mr Sloper, a "septuagenarian", marked 20 years with the company last week and will retire today ahead of a "send-off" next Friday.
His departure was a massive loss, Taieri Gorge Railway chief executive Murray Bond said.
"Ken's been here since day one. He's amazing. We call him Gentleman Ken.
"He's such a professional and likeable guy. He sets very high standards and is so good with customers. You can't fill boots like that," Mr Bond said.
A replacement will be sought to work with the company's three other drivers, but finding someone with the same level of experience would be difficult, Mr Bond said.
"Ken's spent his whole life driving for railway companies in New Zealand.
"He knows the absolutely vitally important things about driving for passengers, like smooth starts and stops, and is wonderful with customers riding in the cab."
Mr Sloper was born in Dunedin and attended King Edward Technical College until 1957, when aged 16 he started work as a cleaner for the New Zealand Railways Department.
He had always been interested in railways and was trained in all aspects of operating locomotives.
"It was about 14 years before I drove a passenger train. Back in those days, there were so many staff, you nearly had to wait for someone to die before you moved up."
Mr Sloper was one of two remaining Dunedin train drivers qualified to operate steam engines, and said the conversion to diesel in the late 1960s "completely changed everything".
"I had 12 years on steam. Looking back, they were really good times.
"They all had a personality of their own those steam locos."
He never thought he would be fond of the "filthy" steam engines, but said it was a shame they had largely been abandoned in New Zealand.
Other countries had revived old locomotives.
"Diesel just doesn't have the same attraction. People like to see the moving parts, the smells, the heat and everything that goes with it."
Although Mr Sloper loved being a train driver, it was an occupation he did not wish upon his children because of the sometimes long and unsocial hours.
But something about railways was "in the blood" and his son Greg was a train driver, as well as Greg's son Sean.
"I never wanted my son to get into it, and he never wanted his son to get into it, but it's just the way it has gone. It's a funny thing," Mr Sloper said.
He will miss interaction with colleagues and passengers, but not setting an alarm clock.
"My whole working life has revolved around looking at the clock. I'll just see what retirement throws up."