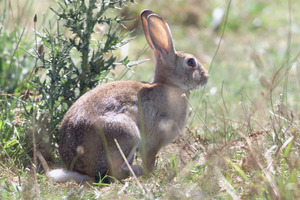 What are believed to be the first prosecutions over Central Otago's rabbit problem are set to go to court next week.
Otago Regional Council manager compliance Peter Kelliher confirmed this week charges had been laid against two Wanaka land occupiers.
The two charges are failure to provide an approved rabbit and hare infestation control programme, and failure to comply with a notice of direction.
Mr Kelliher said the matter had been set down for the Queenstown District Court on Tuesday, June 4, although it was likely to be adjourned to a later date.
He would not say who the charges had been laid against but confirmed it was the first time proceedings had got to this point.
"Generally, when a rabbit and hare infestation control programme is requested or a notice of direction is issued, most occupiers respond positively and work with the council to achieve compliance."
Mr Kelliher said the council's pest management plan put responsibility for rabbit control on occupiers rather than landowners.
"In most circumstances, the landowner will be the occupier. However, for example, a property could be leased or controlled by a third party who is not the owner."
The council is planning several rabbit poisoning operations in the Wanaka area this winter including one at Queensberry Terrace which has required the co-operation of more than 50 lifestyle block owners.
Last weekend, council senior field adviser Peter Preston explained to them the precautions they needed to take during a poisoning programme.
Pindone-laced carrot bait will be spread from four-wheel motorbikes on flat ground and aircraft will be used for steeper areas and for farmland above the subdivision, where 1080 would be used.
Mr Preston said rabbits killed by 1080 were a particular hazard for dogs for several months.
Other council-run poisoning programmes under way in the Upper Clutha, or expected to go ahead this winter, include Lake Hawea, Luggate, Queensberry Ridges, Cardrona, Dublin Bay and some larger properties along the Wanaka-Cromwell road.
He described the rabbit problem in the area as "huge".
"It's been a very bad year."