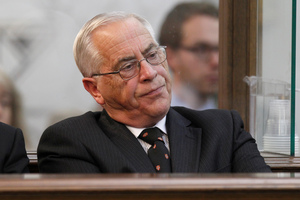 Prime Minister John Key will wait to see whether Sir Douglas Graham takes a further appeal against his conviction before he considers whether to strip Sir Douglas of his knighthood, and there is speculation that Sir Douglas could take the decision out of his hands by offering to surrender it.
The Court of Appeal yesterday upheld the conviction of the four Lombard directors after they failed to include important information about Lombard's position in offer documents in December 2007.
The court also added home detention to the sentences handed down to the directors, Sir Douglas, Lawrence Bryant, Michael Reeves and Bill Jeffries, also a former justice minister.
Some of those who lost money in the collapse of Lombard have called for Sir Douglas to lose his knighthood. Mr Key said such a step was "unusual" but there were international precedents and he would seek further advice once all avenues of appeal were exhausted.
Sir Douglas could not be contacted yesterday and his lawyer did not return calls. However, there is speculation Sir Douglas will give up the knighthood rather than face having it stripped from him.
Lombard collapse was one of many finance company failures between 2007 and 2009, and left 4400 investors owed $127 million. Sir Douglas was among those who lost money.
Despite the views of Lombard's victims, there was little political appetite for cancelling Sir Douglas' knighthood.
Labour's shadow Attorney-General David Parker said he would not call for Sir Graham to lose his title.
"He's a man who has done some good things in life. In some ways he is the father of Treaty settlements and he has been penalised already by the courts for this. He hasn't profited from it himself, he's not like that."
NZ First leader Winston Peters also held back, saying "I don't want to kick a man while he's down."
Auckland University Constitutional Law lecturer Bruce Harris said that if Mr Key was faced with such a decision, he was likely to consider precedents. It could also be relevant that Sir Douglas' knighthood was for his service as a Government Minister and not related to his subsequent work as a director.
"The real question is whether or not the removal is warranted. It's a question of looking at the nature of the crime, how serious it was and whether that warrants a removal. There are no clear rules on that."
The formal word for removal of an honour is 'debasement' - recommendations go to the Queen who has the power to cancel and annul the honours.
Mr Harris said it was a borderline case. In most cases where honours were withdrawn 'traditional crimes' such as murder or sexual offences were involved. "Obviously such a person is not fit to be a knight. But financial impropriety is much more difficult, it's really at the cusp of what is warranted in terms of removal."
Similar considerations are underway in the United Kingdom, where the Forfeiture Committee is currently considering which bankers will lose their honours as a result of the financial crisis, especially if those honours were for services to banking.
Former Royal Bank of Scotland chief executive Fred Goodwin was the first to lose his knighthood after he led the bank to near collapse in 2008, resulting in a £45 billion bailout. The BBC reported that it was the first time a knighthood had been cancelled for financial mismanagement - previously only convicted criminals or people struck off professional bodies had lost knighthoods.
In its decision released yesterday, the Court of Appeal said the original sentences for the four were too lenient and added home detention.
Sir Douglas and Lawrence Bryant had been sentenced to 300 hours' community service and ordered to pay $100,000 reparation, while Michael Reeves and Bill Jeffries, also a former justice minister, had been sentenced to 400 hours' community service.
The Court of Appeal found the correct starting point for their sentences should have been two years to two years and six months imprisonment.
But because the Solicitor-General had not sought prison sentences, the court found the proper sentence was a combination of home detention and community work. The court will impose final sentences once it has received reports on the home detention addresses of the directors.
Roll of dis-honour:
* Albert Henry, the first Premier of the Cook Islands, lost his knighthood after he was forced to resign in a 1978 voting scandal for which he was later convicted of fraud.
* Disgraced doctor and former Christchurch Deputy Mayor Morgan Fahey was stripped of his rank as an Officer of the Order of the British Empire after he was convicted of rape, sexual violation and indecent assault in 2000.
* Queensland police officer Terry Lewis was knighted in 1986 for services to police, but lost all his honours after he was convicted on corruption and forgery charges in 1993.
* In 1994 Zimbabwe President Robert Mugabe was made an honorary Knight Grand Cross of the Order of the Bath, but in 2008, the Queen cancelled this on the advice of the British Government.
* Former MP and prominent UK author Lord Jeffrey Archer kept his title despite convictions for perjury and perverting the course of justice in 2001. His title was considered a life peerage, rather than an honour under the Crown.
* Fred Goodwin, the former CEO of the Royal Bank of Scotland, was given a knighthood for services to banking in 2004 but stripped of it in 2012 for his role in the bank's near collapse in 2008. Was the first case of an honour being removed which did not involve criminal conviction or being struck off a professional body.
* Last month, HBOS chief executive Sir James Crosby asked to be stripped of his knighthood as an act of contrition for his role in the near-collapse of HBOS. The Forfeiture Committee is also deciding which other banking leaders will lose their honours for the banking crisis.