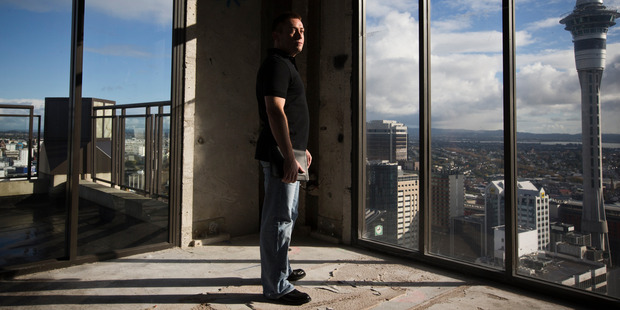 Multimillionaire Charles Shrimpton has all but signed the paperwork for the sale of the last of three penthouse suites in Auckland's tallest apartment building - in deals worth nearly $10 million.
The 36-year-old information technology king has for the past 10 years dominated the top two floors of the five-star Metropolis complex on Courthouse Lane.
His software development company, Practiv Applied Software, was based on level 37 and he planned to turn level 38 into an apartment for himself.
But he instead bought a $5 million waterfront property north of Auckland at Hatfields Beach where he keeps his helicopter.
"I was thinking I might live in it but you get older and I decided the city lifestyle is not quite so much for me," Mr Shrimpton told the Herald yesterday.
Level 37 is being converted into two apartments and he sold the first, which is 240sq m with two carparks, to a family for $2.9 million last month.
He is near signing a deal on the second one, which is 267sq m with three carparks and was advertised for $3.5 million.
Mr Shrimpton yesterday took the Herald on a tour of the two, which have plans for four bedrooms and three bathrooms.
Number 37a on the western side has views to the northwest of the Sky Tower, Westhaven Marina, harbour bridge, Viaduct Harbour and across to the North Shore. From 37b on the eastern side, Devonport, Rangitoto Island, Mission Bay, the Auckland Domain and Mt Eden and One Tree Hill can be seen.
They have the use of a swimming pool, spas, sauna and a gym within the building.
"The property market is pretty much on fire in Auckland city and surrounds so we actually raised our price a couple of times before we went to the market for 37a and 37b," Mr Shrimpton said.
"Based on the valuations we had, we got the asking price we were looking for with the first place from the first buyer that showed up."
He first sold level 38 in 2007 to David Blackmore, who has been fighting bankruptcy, but repossessed the 328sq m property in 2011, and resold it as an empty shell for $3.45 million. The new owner is renovating the apartment where he will live with his family.
Mr Shrimpton, who is divorced and has a 12-year-old daughter, was 26 when he bought the two floors for $3.7 million in 2003 from developer Andrew Krukziener - who built Metropolis in 1999 - after his company went into receivership.
He was born in Britain and moved to Auckland when he was 16. He moved back to Britain and started his company, expanding operations to New Zealand, before selling the British arm and returning here to continue the business.
Metropolis penthouses
Level 38: Sold 2012 for $3.45 million.
Level 37: Apartment A: Sold April for $2.9 million.
Apartment B: Negotiations underway to sell for $3.5 million.
Total: $9.85 million.