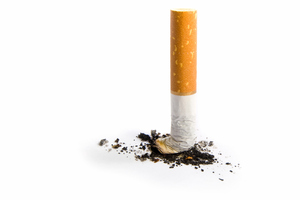 Twenty people from the small rural settlement of Frasertown near Wairoa have joined a quit-smoking competition.
That's nearly 7 per cent of the people in the locality, originally known as Te Kapu, whose population is around 300.
Among the quitting hopefuls is Maria Cairns, who has smoked for more than two decades.
"I don't even want to smoke; I don't even know why I'm smoking, really," Miss Cairns said.
But with the help of her extended family and the quit-smoking medicine Champix, the 42-year-old mother of six and part-time forestry company administration officer is on the verge of quitting the habit she took up when she was about 15.
"I'm not fully quit. I have the odd one now and then. I'm trying to get rid of that odd one. I stopped buying smokes three weeks ago."
Before Miss Cairns and her team entered the University of Auckland-Hawkes Bay District Health Board quit-smoking competition in March, she was smoking 20 cigarettes a day.
She wants to quit for a variety of reasons such as her children, to save money, and for her own health. She has asthma, which began when she was 26, and she blames smoking.
She is in one of two 10-member teams from her locality - Nga Whanau o Te Kapu (families from Frasertown) - that have entered the competition. They are among seven Hawkes Bay teams vying for the DHB's $5000 first prize.
Miss Cairns said if her team won, the money would go into fixing up the council-owned community hall.
"Last week, we had six out of 10 registered as non-smokers.
"We've got a community hall at Frasertown that we are trying to bring back into community use. It needs painting. It used to be where the local rugby team used to play, and the netball teams.
"We want to get some community projects bringing support back to the community."