Plain packs and hitting smokers in the pocket may help the Govt reach its target of NZ being virtually smokefree by 2025, but for those who really struggle to quit, some smart new thinking is needed, Martin Johnston writes.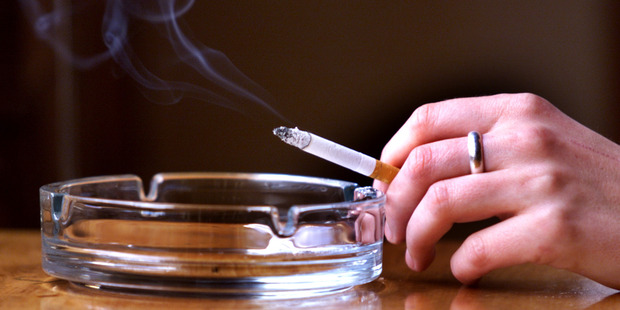 Forcing up tobacco taxes every year is having an effect. It's hitting the price point for many smokers, galvanising their resolve to quit.
But public health experts know tax rises alone aren't big enough to put New Zealand on a path to reach the Government's target of being virtually smokefree - with smoking prevalence of less than 5 per cent - by 2025.
That date is 11 years, 7 months and 1 day away, calculated for us daily by the countdown clock on the website of the Tobacco Control Research Turanga, a collaboration of researchers and funders.
Today is World Smokefree Day, themed in New Zealand as, "Quit now. It's about whanau". Last year the World Health Organisation said the campaign would focus on "the need to expose and counter the tobacco industry's brazen and increasingly aggressive attempts to undermine global tobacco control efforts".
This year WHO's theme for the day is to encourage governments to ban tobacco advertising, promotion and sponsorship, a war largely in New Zealand's past. The remaining battlegrounds are the branding on cigarette packs and tobacco pouches and smoking in movies.
The Government intends to follow Australia and impose plain, standardised packaging of tobacco with pictorial and text health warnings dominant. Ireland and Scotland, too, have declared for plain packaging but the UK Government has put the scheme on the backburner. Tobacco companies scorn the idea, citing a lack of evidence, but researchers say it will disrupt youth uptake of smoking.
In New Zealand - where annual tax increases are expected to push a packet of 20 cigarettes above $20 in 2016 - the all-ethnicity trends in smoking prevalence are tracking down. For the whole population, the rate of daily smoking among adults was 16.5 per cent last year, down from 25 per cent in 1997, the NZ Health Survey found. And in just five years, the youth daily smoking rate had fallen by more than half, to 6 per cent.
But Maori and Pacific people carry a disproportionately large share of smoking addiction, as do people from more deprived neighbourhoods.
Maori women still stood out in the Health Survey with the highest smoking rate, 44 per cent; Maori men were at 38 per cent, Pacific people (men and women) were at 26 per cent, Europeans/others at 17 per cent and Asians at 10 per cent.
For Maori, the smoking rate dropped between 2003 and 2007 but had not changed since.
The Health Ministry estimates more than 600,000 adults are smokers, 5000 New Zealanders die each year because of smoking or exposure to secondhand smoke, and half of all long-term smokers die of a smoking-related illness, losing 15 years of life on average.
Associate Health Minister Tariana Turia has acknowledged tax hikes alone won't get New Zealand over the line by 2025. Last year's Budget set aside $20 million over four years to develop new ways of helping people quit. Nothing has been announced since on where the funding is going.
One bid is to extend nationally the University of Auckland-designed regional quit-smoking competitions, the first of which resulted in a quit rate of 36 per cent after three months, exceeding expectations.
The concept of the WERO - Whanau End Smoking Regional Whanau Ora Challenge - was designed by the university's Centre for Tobacco Control Research to appeal to Pacific and Maori communities, because too few of them were using existing quit-smoking programmes.
"WERO is based on Maori and Pacific cultural values, such as having teams of people quitting together rather than focusing on individuals," the scheme's website says. "WERO is designed to be fun; Maori and Pacific love a competition. [They can also] raise money for a good cause."
Teams of 10 smokers are formed and, with the support of a coach and a stop-smoking specialist, compete for three months to end with the most members smokefree. Competitions are running in Northland and Hawkes Bay in collaboration with the local district health boards. The DHBs finance a first prize of $5000 for the winning team in each region and $500 for the team judged the most active in blogging on the WERO website. It's hoped sponsors will be found for the competitions.
A university research fellow for the scheme, Nathan Cowie, said it was working well and, with more than a fortnight to go, entrants were "quitting in large numbers". In Northland, all 10 in one team had stopped smoking. "There's two teams sitting on nine smokefree, two teams on eight.
"There are nine other people in your team to support you, the team members support each other. They have a coach who motivates them along and helps them access treatments such as nicotine replacement therapy, Champix, the new Nicorette QuickMist mouth spray. Some have been using that. Some have been using electronic cigarettes. They get access to different medicines and treatments they might not otherwise have accessed."
Auckland University's tobacco control expert, Associate Professor Chris Bullen, agreed there was still a need for innovative schemes if New Zealand was to meet the 2025 target. Ideas being discussed included California-style "truth campaign" advertisements that hammered home the harms caused by the tobacco industry; forcing manufacturers to remove the sweeteners and flavourings from cigarettes; progressively raising the age at which people could legally buy tobacco; and introducing a "smoker's licence".
"You could only purchase tobacco [with] a licence," said Professor Bullen. "You can only get a licence if you pay an annual fee and pass a test in which the truth of tobacco smoking and the harms and its addictive nature have been explained and you make an informed choice to purchase tobacco under certain conditions."