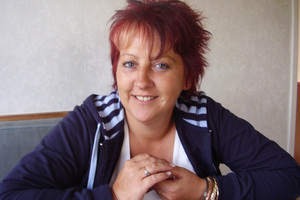 Lynette Chapman's family say Child, Youth and Family failed in its responsibility to properly manage the teenager who killed her in an arson attack.
Coroner Morag McDowell today finished hearing evidence in an inquest into the death of 49-year-old Ms Chapman, killed as she slept in her Pukekohe home.
Tonya Bennett, who was 16 at the time of the January 2009 attack, was sentenced to 11 and a half years in prison for murder and arson.
She had been receiving 16 hours a day of supervision from YouthLink, a charitable organisation which was contracted by Child, Youth and Family (CYF), and a YouthLink worker was at her house on the night of the death.
Ms Chapman's father Bob Hunkin told the inquest it was clear that there were failings with the system in place to look after Bennett.
"It seems very strange to me that with a company of that size, with CYF and everybody else involved, they couldn't find somebody capable of looking after that type of client."
He said while the family would never forget what happened on January 20, the inquest at least brought them some closure.
Earlier today, the inquest heard evidence from YouthLink chief executive Alan Newman, who said he had no record that Bennett's caregiver that night, who has interim name suppression, had received any training since beginning work for YouthLink in 2007.
Yesterday, the worker herself said she could not remember if she had received any training while on the job.
The inquest was told how the carer brought her two young children with her to Bennett's house on the night of the fire because her husband was working late, and how she did not follow the organisation's crisis plan when Bennett came home drunk.
Mr Newman said he was disappointed that the worker had broken company protocol by bringing her children to work, but said overall she had met expectations that night.
"While the training would have been useful, I am mindful of the background and skills that she did bring with her as being a main factor in her ability to cope," Mr Newman said.
"I think there were some things that were good [about the carer's actions that night] without it being perfect."
He said the carer had an appropriate level of experience looking after troubled teenagers, although she had never before worked with anyone as difficult as Bennett.
Mr Hunkin asked him: "It seems a bit strange to me that she [Bennett] would have been put in the care of someone with no experience of looking after a person like that."
Coroner McDowell reserved her decision.
Meanwhile, name suppression has now lapsed for Michael Cartwright, who acted as lookout while Bennett set fire to the house.
Cartwright, who was 18 at the time of the death, was sentenced in 2010 to two years in jail for manslaughter and two counts of arson.
His lawyer, Gary Gotleib, confirmed he had since been released from prison.
- APNZ