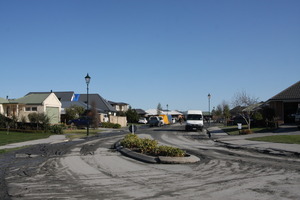 Tomorrow marks 1000 days since the first devastating earthquake hit Christchurch.
The magnitude 7.1 earthquake on September 4, 2010 caused widespread damage to the city but was soon overshadowed by the deadly magnitude 6.3 quake on February 22 the following year.
Earthquake Recovery Minister Gerry Brownlee said tomorrow would be a special one for Cantabrians as it marked 1000 days since the first quake.
"To mark the milestone I'd like to thank all those who have helped in whatever capacity, from voluntary to official, in responding to the earthquakes and helping shape the recovery that is so clearly underway," he said.
Mr Brownlee said rebuilding Christchurch was among the Government's priorities. He listed 100 responses since the first earthquake, and said a huge amount would be done over the next 1000 days.
"But now is a good time to reflect on just how far we've come, some tragic losses, and to acknowledge how much energy and passion thousands of people have put into the recovery."
Mr Brownlee said major inroads had been made in buying up central Christchurch land for new projects, with agreements reached for almost two thirds of the land area for priority projects.
The Crown is buying land to implement the Christchurch Central Recovery Plan, which aims to revitalise the central city.
Mr Brownlee said 63 per cent of the total designated land area for the plan's priority projects - the Convention Centre Precinct, the East Frame, the Bus Interchange, the Justice and Emergency Services Precinct, and the Metro Sport Facility - now had purchase agreements in place.
Across all projects, agreements were in place for 43.4 per cent of all land at a cost of $231.6 million.
Mr Brownlee said the figures showed the programme was moving ahead at a very good pace.
"To build these new projects we first need to purchase the necessary land, complete any demolition that are required, and then do the physical building. We are already seeing this building work take place on the early stages of the Avon River Precinct."
The Crown has not had to use its compulsory acquisition powers to date, and two independent valuers had been providing advice to the Crown in the negotiations.
- APNZ