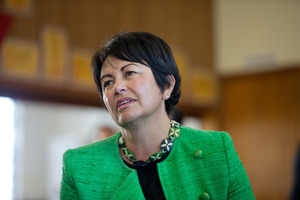 Schools that offer special programmes to out-of-zone students will now be entitled to more funding.
Education Minister Hekia Parata said the move would urgently address capacity issues in places such as Auckland and Christchurch, where growth pressures meant there was high demand for special programmes.
Schools with out-of-zone children in selected programmes would now be able to access roll growth funding from the Ministry of Education.
Ms Parata said the ministry had encouraged the establishment of special programmes which met the needs of priority groups - including Maori, Pasifika and children with special needs - and the change would urgently address capacity issues in some schools.
"This is good news for communities that are set to grow," Ms Parata said.
"Demand for special programmes will continue to grow over time, particularly in the ethnically diverse areas of Auckland."
Ms Parata said eligibility criteria would apply and not all special programmes would generate funding for additional classrooms.
She said students who lived in a school's home zone would still be given priority for entry into special programmes ahead of out-of-zone students.
The Ministry of Education would review the policy's impact on rolls and costs in three years time.
- APNZ