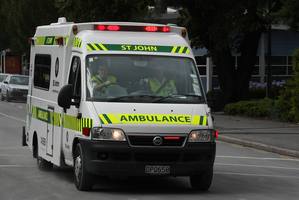 Maori elders blessed the scene of a fatal car crash in South Wairarapa this morning where the body of the 17-year-old crash victim lay covered on the road.
The Foxton teenager was a passenger in a Nissan sedan that had collided with a power pole on Kahutara Rd, near Featherston.
A woman driving along the road around 3am alerted emergency services who arrived to find the teenager dead at the scene and the 18-year-old male driver trapped in the car with facial injuries.
The driver was flown to Wellington Hospital in a Life Flight Trust Westpac rescue helicopter.
Featherston fire chief Colin McKenna was one of the first people to arrive at the crash scene and said both teens were trapped in the car but he wasn't sure when the crash happened or how long they had been there.
Mr McKenna said the doors of the vehicle were removed to free the driver, who was conscious and appeared lucid.
A serious crash unit investigation has been launched into the fatality and police, who were also at the scene this morning, are investigating whether speed or alcohol was a factor.
Constable Raewyn Joblin, the Masterton Police Maori liaison officer, and Wairarapa kaumatua Mike Kawana performed a karakia, or prayer, before the body of the teenager was taken from the site by hearse about 10am.
For more articles from this region, go to Wairarapa Times-Age