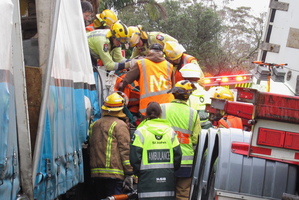 Trucking industry groups accept more needs to be done to improve safety, after two fatal crashes in the eight days since a campaign was launched to reduce the number of people killed in truck accidents.
The two men killed in the accidents, at Kerikeri on Tuesday and on the East Coast last week, are the latest victims in an industry desperate to improve its safety record.
Both crashes were between two trucks.
First Union transport and logistics secretary Karl Andersen has called for an investigation into the cause of heavy vehicle accidents, saying many drivers are being put under pressure to drive for longer shifts.
Road Transport Forum chief executive Ken Shirley said the safety of the industry had drastically improved in the last 15 years but he admitted more needed to be done to crack down on the "three big causes" of crashes: speed, inattention and fatigue.
Mr Shirley said it was important for the reputation of the industry that companies and individuals continued to condemn the actions of drivers who broke rules by speeding or failing to keep strict log books.
"A vast majority of accidents aren't caused by the truck, but a significant number are. Unfortunately, just as cars are involved in accidents, from time to time trucks are," Mr Shirley said.
"It's very regrettable, it's very costly, it's very expensive and often very tragic and we would all like to say there'll be no more accidents."
Since last week's launch by police of the month-long Operation Austrans - targeting the heavy vehicle road transport sector on speed, fatigue and vehicle compliance - officers have inspected more than 1000 heavy vehicles and issued more than 400 infringements and warnings.
National road policing manager Superintendent Carey Griffiths said there had been only one warning about driver fatigue but "sadly it has been marred by two fatal crashes since the operation was launched".
There have been multiple other serious crashes involving trucks in the last week, including a crash between two trucks that closed part of State Highway 4 near Mt Ruapehu yesterday.
Road Transport Association general manager Dennis Robertson said the trucking industry needed to "constantly improve" its safety record.
"The professional driving fraternity ... take it very seriously."
Mr Robertson said technology that tracked the speed and time that trucks were being driven was gradually being introduced by commercial companies, and would eventually result in most trucks across the country being monitored to ensure drivers were being safe.
He said most companies were "embracing this technology" to further ensure drivers met their responsibilities on the roads.
However, Mr Robertson said "sheer" physics meant any crash involving a truck was likely to be more serious than other crashes.
"If a truck is involved in a crash the chances are someone's going to die. That's a reality," Mr Robertson said.
"I think you've got to stand back and say of course there's going to be crashes where people are unfortunately going to be killed. All we can do is continue to get the [safety] message out there."
Since its launch on May 20:
• 1079 heavy vehicles stopped: 13 coaches and buses, 406 truck and trailer units, 47 articulated trucks, 234 B-Trains and 379 rigid trucks
• 866 roadside drug and alcohol tests, no offenders
• 93 warnings to heavy vehicle operators
• 363 infringements, including speed (53), seat belts (11), maintenance/vehicle faults (90), dangerous goods offences (10), excess weight/loading issues (42)
The operation concludes on June 16