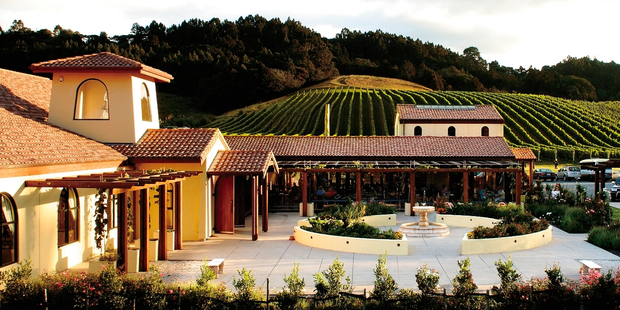 A winery estate with a capital value of $2.3 million is for sale after being placed in receivership.
The popular Ascension Wine Estate in Matakana, north of Auckland, was established by Darryl Soljan and his wife, Bridget, in 1994.
The property, well known as a classy venue for weddings, business functions, music concerts and festivals, was initially marketed for sale in the middle of last year but was placed in receivership this month.
The land and buildings, with a capital value of $2,318,000, is being advertised by Bayleys Real Estate. Tenders close on June 27.
Agent Scott Kirk said the land, buildings, hospitality business and winery/vineyard assets were all being marketed for sale but the business was still running for the time being.
"To all intents and purposes, the business is running as usual and is being sold with a substantial number of corporate and private function bookings already confirmed throughout the year and right up until Christmas and beyond," Mr Kirk said.
"A number of concert acts are also scheduled to perform at Ascension throughout the second half of 2013 and the receiver's expectations are that those dates will be honoured should a new owner look to buy the business with that intention."
The 7.56ha vineyard, winery and function centre is known for its summer concerts including this year's Classic Hits Winery Tour, the Hollies, Fat Freddy's Drop, and Shapeshifter.
High-profile guests include some from international software company Microsoft.
Receiver Andrew McKay of Corporate Finance was unavailable for comment yesterday.
Directors John Bulog and Russell Hay did not want to comment on the situation, referring all calls to Mr Soljan; he did not return the calls.
The Soljans developed the estate in a bid to make their own way in the wine world from the family's established West Auckland estate.
Mr Soljan spoke to the Herald Business magazine in 2011 about the Ascension, which at the time employed 28 fulltime-equivalent staff.
Visitors to the vineyard topped 50,000 the same year and Mr Soljan spoke of his responsibility to the micro-economy of the Matakana community.
Up for grabs
* 7.6ha of land on Matakana Rd, Auckland.
* 710sq m air-conditioned function centre to host up to 300 guests.
* VIP dining room.
* Several hundred thousand dollars of wine stock from previous vintages including this year's harvest.
* Small winemaker's cottage.