Kaye Stewart vanished after going for a walk in bush in 2005 and now an inquest is likely to declare her dead. But her husband is still waiting for answers and says he feels he's running out of time.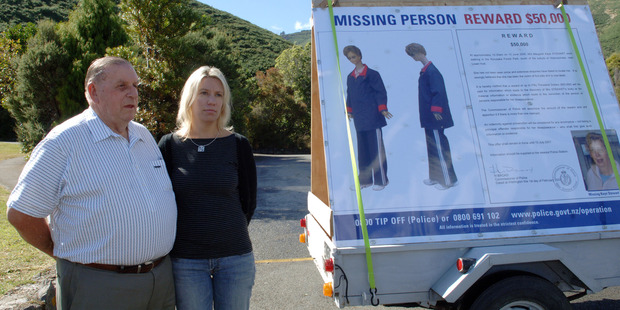 On a miserable day in June 2005 Kaye Stewart went for a walk in the bush - and never came back.
Her family and police believe she was murdered, but with absolutely no trace of Mrs Stewart it has been impossible to bring her killer to justice.
The disappearance of the 62-year-old Wellingtonian is one of the country's biggest mysteries. Today, eight years after she was last seen, an inquest will be held and it is likely she will be declared dead.
On June 13, 2005, Mrs Stewart, a former All Blacks physiotherapist, had plans. She was to drive her daughter Tanya to a meeting in Wainuiomata at 10.30am, and then pick her up two hours later.
An active and fit grandmother of three, Mrs Stewart decided to use her free time to go for a walk and headed to the Rimutaka Forest Park.
She did not know the area well and stopped at the information centre to check what tracks she could complete in her free time.
A Department of Conservation worker approached Mrs Stewart and explained that flooding had damaged many of the tracks. He suggested several short walks, about 30 minutes long with an easy gradient.
Dressed in a lightweight nylon anorak jacket, dark tracksuit pants and white sneakers, she headed off.
Moments later the worker saw Mrs Stewart parking her silver Toyota Corolla hatchback in a carpark. It was just after 11am.
The last sighting of Mrs Stewart was at 1pm when she approached another DoC worker and asked for directions back to the carpark. He watched her walk across a grassy area towards her car.
By 2pm there was no sign of Mrs Stewart and Tanya was worried.
She made her own way to the park and found her mum's car. She called out, looked around, but her mother was nowhere to be seen. She called the police and within an hour the area was being searched.
The police investigation into Mrs Stewart's disappearance will remain open until she is found.
Her husband Bob, now 80, appreciates that police need to keep an open mind, but he is convinced she was murdered.
"I don't have any hesitation about that. I think someone attacked her in a way that disabled her very quickly, otherwise she would have fought back and there would have been signs of a struggle. There weren't any anywhere."
Detective Sergeant Michael Sears said police were committed to getting answers for Mrs Stewart and her family.
"They are a fantastic and lovely family. We can see the desperation and distress that all the family and friends have gone through," he said.
Mr Sears could not speculate about what he thought had happened to Mrs Stewart before the inquest was held.
"I would have thought that, given the area where she was walking, if she'd accidentally fallen or hurt herself I'm comfortable that we would have found her.
"We have maintained an open mind, we've got to be pragmatic and we've got to assess all the facts and information that's known to us now and continues to come in.
"It's fair to say there are a number of possible scenarios and the police are keeping an open mind and exploring all of them."
Those scenarios include Mrs Stewart being alive somewhere, having run away from her family. "In a police file like this it's one of the scenarios we look at but it's certainly one we're not placing much, if any, weight on. Police don't believe that she's run away," said Mr Sears.
Another scenario was that after battling depression for years, Mrs Stewart had taken her own life. Mr Stewart's answer to that is an unequivocal no.
"There has always been the theory that Kaye might have been suffering the day she disappeared. I know that she wasn't. Everything was perfectly normal, Kaye was happy.
"She would never have done anything to disrupt Tanya's life. The thought that she might have left us by choice is absolutely, completely out of the picture," he said.
Part of the puzzle is a lone quad bike rider seen leaving the park area by Tanya as she drove towards the carpark. The man has never been identified.
"That was a large focus of the inquiry, trying to identify the rider of the quad bike," Mr Sears explained.
"We still obviously want to speak to that person. Lots of effort has been given to try and identify the rider, who could have been innocently enough in the park - but we still need to speak to that person and find out why he was there and what he saw or if he has any knowledge of this matter."
Mr Sears is confident police can crack the case and wants to bring peace to the Stewart family.
"It's been very hard to have regular contact with the family and not be able to give them some sort of positive information one way or another, no matter how hard that might be," he said.
"Despite the passing of time we still desperately want to speak to anyone that's got information or might have been in the park - the quad bike rider or other people we haven't identified and spoken to."
The Stewart family are preparing for the inquest. "I'm not expecting much to be honest," said Mr Stewart.
"It makes it official, they'll issue a death certificate. But there's no answers. Somebody said to me: at least you'll have closure. Like bloody hell I will. That's a silly thing to say."
He felt he was running out of time to find out what happened to his wife, but would never give up hope.
"It's completely insulting to Kaye and her family that her remains are somewhere out there - and wherever they are, they shouldn't be. I have to hand the torch on to my children, because I'm unlikely to be around when and if something turns up.
"Somebody out there knows something. They're either protecting someone or they don't think that what they know is significant. That's our only hope."
Timeline
June 13, 2005
• 10.30am Kaye Stewart drops her daughter Tanya off at a business meeting in Wainuiomata
• 11am Arrives at Rimutaka Forest Park to go for a short bush walk, speaks to DoC worker at info centre
• 1pm Speaks to second DoC worker at Coast Rd and asks for directions to her car
• 2pm A worried Tanya goes to the park to look for her mother
• 3pm Police are called and a search is launched
• June 25 A second search is launched but called off after several days
• March 16, 2007 Police offer a $50,000 reward for information that leads to Mrs Stewart's body or a conviction relating to her disappearance
• May 30, 2013 An inquest is held into Mrs Stewart's disappearance
Can you help
Kaye Stewart, 62, was last seen at Rimutaka Forest Park at 1pm on June 13, 2005. She was wearing dark tracksuit pants with a triple stripe, a blue parka with red collar and cuffs, prescription glasses, a gold watch and an emerald ring. If you have information about the disappearance of Kaye Stewart, call the Lower Hutt police on (04) 560-2600, contact your nearest police station or, if you wish to remain anonymous, call Crimestoppers on 0800-555-111.