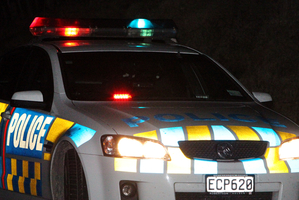 A woman was attacked and held at gunpoint by three armed men who forced their way into her rural Canterbury property last night.
Police were called to McDougalls Road near Hinds, south of Ashburton, about 7.30pm.
Detective Sergeant Jennifer Hooke said a woman in her early 20s had been at her farm property on her own when she answered a knock at the door about 6.30pm.
She was confronted by three men who forced their way into the house, struck her in the face, and held her at gunpoint.
The men were not known to the woman, Ms Hooke said.
"They asked for a person who they believed resided at the address, but the young woman could not help with this person's whereabouts," she said.
"One of the men held the woman at gunpoint while the other two ransacked her address. When they didn't find the person they were looking for, the group left in a vehicle that had been left idling outside the address - possibly indicating there may have been a fourth person involved."
The young woman waited for about an hour before leaving the address to look for help and call police.
She suffered minor injuries and did not need medical attention, Ms Hooke said.
She was being supported by friends.
One of the men was described as Caucasian, aged about 28 to 30, with short shaved hair, of stocky build and unshaven.
The second was described as Caucasian, aged about 28 to 30, with sandy brown hair styled in spikes, possibly with a thin moustache. He had a protruding light brown mole on his lower left cheek, close to the jaw line.
The third man was described as Maori, aged about 28 to 30, of darker complexion with straight black hair extending below his ears, and a 1cm beard coming to a point at the chin, but no moustache. He was wearing a black t-shirt with '50 cent' and the image of a chain in faded gold lettering.
There was no description of the getaway vehicle.
A forensic examination was being conducted this afternoon at the property but the results would not be known immediately.
Anyone with information about the incident, or who could help identify the people responsible was asked to contact police.
- APNZ