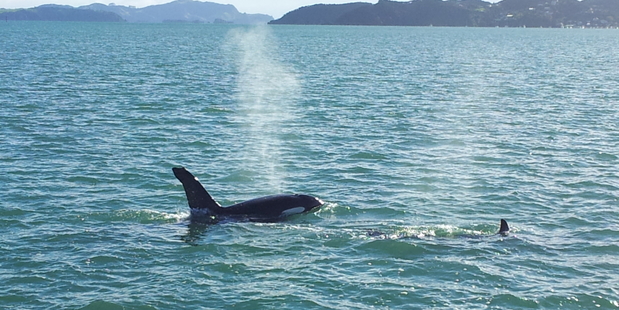 While humans were stayed indoors out of the cold yesterday, orcas were enjoying a swim and a meal in the Bay the Islands.
Passengers who braved the cold on Fullers' Dolphin Seeker were rewarded by an encounter with a pod of eight to 10 orca off Paihia's Te Haumi flats about 9.45am.
Marine mammal guide Jo "Floppy" Halliday said the orca were in a strikingly laid-back, cruisy mood.
"They were just foraging around in the shallows for rays," she said.
The pod included a baby - or calf - with a distinctive lopped-off fin and what looked to be an "absolutely tiny" new calf, as well as well-known adult Funky Monkey and a large male known as Bullet.
About 20 passengers were on board the 200-capacity boat.
"They were ecstatic. We had pouring rain, but when we got to the orca the clouds cleared and the sky was blue."
The pod had been seen earlier that morning among the moorings at Opua. Ms Halliday's last sighting was at Russell's Long Beach about 11am as they were swimming towards Urupukapuka Island.
Tutukaka orca expert Ingrid Visser was yesterday afternoon still out in the Bay following her finned friends.
For more articles from this region, go to Northern Advocate