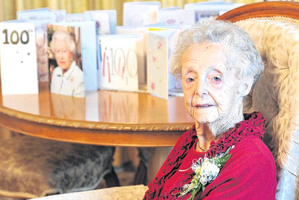 What does a birthday girl do to celebrate her 100th birthday?
Mosgiel centenarian Olive Ford says she will be doing "as little as possible" to mark the milestone today.
"It's just another day, as far as I can see.
"If it's snowing again, it will be a really lazy day sitting around and eating."
Despite her pragmatic attitude towards her 100th birthday, she did not let the moment go by without a little bit of pomp and circumstance.
Last Saturday, she celebrated with a prelude to the big day, with her three daughters and most of her seven grandchildren, 18 great grandchildren and 2 great great grandchildren.
Mrs Ford (nee Larkins) said, at her age, family was the one thing she appreciated most of all.
So much so, of all the birthday cards wishing her many happy returns, it was the cards from family that she cherished the most, and took pride of place in her lounge.
The traditional cards from the Queen and Prime Minister John Key sat with other cards on a table.
When asked her secret to a long and healthy life she was again, very matter-of-fact.
"Plenty of good food and hard work.
"It's worked for me. I've had a good life. I've never really been sick."
She said longevity was a family trait. Her mother was 90 when she died and her two older sisters reached a similar age, she said.
Since her late husband, Alex, died 17 years ago, Mrs Ford said she had remained fiercely independent.
She still lived on her own, and only recently got a walking frame to help her mobility.
"I still cook all my own meals, but a lady comes in now to do the cleaning.
"Life is good."