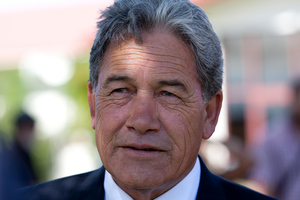 Winston Peters rallied potential elderly voters in Auckland yesterday as it was revealed several formal complaints had been made about his "Super City of Sin" speech last week.
The New Zealand First leader's comments to the Grey Power annual general meeting in Mt Eden yesterday seemed more moderate compared to another of the group's meetings last week when he criticised the growing Chinese influence in Auckland.
Mr Peters talked again yesterday afternoon about Chinese immigrants to New Zealand, but focused on the pressures of population growth and the impact on taxpayers.
Mr Peters said "putting an extra one million people" into Auckland over the next 27 years was "madness" and "truly dumb".
He added that most newcomers from overseas were making real estate unaffordable for young people in Auckland.
"[Auctions are] wall-to-wall with foreign buyers, all bidding through the roof. Young people haven't got a hope of buying a house anymore," Mr Peters said.
Three people have complained to the Human Rights Commission about Mr Peters' speech last week to a Grey Power meeting on Auckland's North Shore in which he said some within the city's Chinese community were involved in the sex industry, the informal labour market and student cheating rings.
He said Chinese tourists who had been gambling at SkyCity casino could then go to "another attraction nearby" - a reference to John and Michael Chow's planned brothel in a development on Victoria St.
"It makes you wonder if the City of Sails is becoming the Super City of Sin," Mr Peters had said.
Human Rights Commission spokesman Gilbert Wong said three people had made complaints this week about the speech.
The complaints would be assessed and, if they met the threshold, the commission would mediate with the parties.
Mediation would be handled by the commission's mediation team rather than Race Relations Commissioner Dame Susan Devoy, who last week said she did not want to get involved in the matter.
But it was unlikely the complaints would get that far. Mr Wong said the threshold under the Human Rights Act was very high because New Zealand had a high regard for freedom of speech.
To meet the threshold, the comments would have to be found to incite racial hostility against a group.
"In most cases, they are unlikely to be progressed as complaints, but there will be responses given to the complainants."
Mr Peters said he was unconcerned by the complaints.
"You've got the usual bunch of people out there who are petty and unconcerned about the facts, and make trifling complaints.....so I'm not concerned."
Asked if he would sit down to mediation if the complaints were upheld, Mr Peters said: "No, I do not believe that such a trivial, petty, unbased complaint will get anywhere, so I'm not prepared to answer those hypothetical questions."
- APNZ