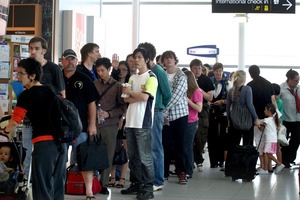 The number of data sweeps that Customs can now conduct to vet passengers for risk before they travel to New Zealand is enormous and barely compares with the number it conducted before it had the use of sophisticated US software.
Head of Customs Carolyn Tremain said that before Customs acquired the software, it could make just 70,000 data sweeps a month. Now it could make 102 million. It could profile just 14 flights a day; nowthe figure is 65.
In the past they had just one set of criteria, or rule-set, against which airline and sea-going passengers were vetted; now they have 300.
She described it as "pioneering" and said New Zealand was the only country outside the US that was using it, although she thought that Australia was also considering it.
The system allowed Customs to concentrate resources on people who might pose a risk to New Zealand.
"Over 98 per cent of all travellers to New Zealand are legitimate travellers, and we really are looking for that needle in the haystack, and what this tool does is make that haystack smaller in terms of the hay and make it easier for us to apply the resource to find the needles," she told the Herald.
Some of the sorts of things they look for are whether the traveller has imported illicit goods in the past, or previously come to the attention of Customs, or booked a flight suddenly.
Asked if New Zealand should have privacy concerns, she said: "New Zealand flyers who are going about their legitimate travel have nothing to fear from Customs at all. Those who are seeking to cause harm to New Zealand society, I would hope they are afeared of us with this tool because we don't want people who cause harm to our way of life coming to New Zealand."
New Zealand piloted the software, known as ATS-G, in 2011 when it hosted the Rugby World Cup.
US Homeland Security assistant secretary for international affairs Alan Bersin spoke about the 2011 pilot last week at a conference in Washington on United States-New Zealand relations.
In 2012 the US agreed to New Zealand Customs using the software as its primary method of screening.
Carolyn Tremain said there was no automatic exchange of information between New Zealand and the US and no connectivity between systems.
But, through their memorandum of understanding, information can be exchanged for specific reasons:
•To verify travel documents and detect false identities
•To further immigration purposes
•To prevent and disrupt illegal trade and smuggling, identify, investigate, apprehend and/or detain persons
•To identify persons who may pose a risk to security and are travelling to, from or between the US and New Zealand
•To protect vital interests of travellers and the general public
•To receive, assess, evaluate and analyse information that may be relevant to these purposes.
Customs vetting before ATS-G
14 flights a day
1 set of criteria
70,000 data sweeps a month
Customs vetting after ATS-G
65 flights a day
300 sets of criteria
102 million data sweeps a month