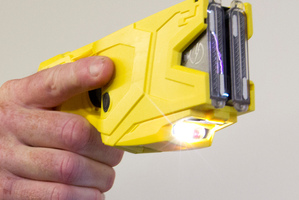 A wild teenager with bloodshot eyes and wielding a bayonet and knife was ordered to drop his weapons five times before he was tasered by a country cop, a court heard today.
Mathew Wisdom, 18, had been trying to curb depression by drinking heavily, and had just had a row with his mother when a police officer stopped at his rural North Canterbury property near Culverden to inquire about a dog seen running loose on the road.
The "completely out of it" teen approached the terrified police officer wielding the weapons.
After failing to drop the blades, and ignoring the repeated warnings, the officer tasered him to end the stand-off.
Today, Wisdom was sentenced at Christchurch District Court to 100 hours of community work, after pleading guilty to one charge of intimidation and one of possession of an offensive weapon.
He had originally been charged with assault with intent to injure, but it was later amended by police.
Defence counsel Kiran Paima said Wisdom had been battling depression when the incident occurred on January 12.
He'd been trying to self-medicate his illness by abusing alcohol, he said, and was in a "complete state of disarray" when the police officer approached his house.
"He appeared to be on something, completely out of it, with bloodshot eyes," the court heard.
Wisdom had no real explanation for acting in the way he did, with Mr Paima saying the only harm he wished to cause anyone was to himself.
Since the incident, he had undergone counselling for depression and is on medication.
He is also planning a move to Christchurch where it is easier to get work than the small rural area of Culverden where he was living.
Judge John McDonald said it was "a potentially very serious incident".
But he accepted Wisdom's state of mind at the time would have had a bearing on his actions.
- APNZ