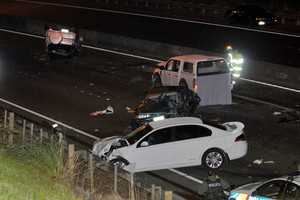 Families of older drivers have been urged to look for signs they're no longer safe behind the wheel, after a coroner found an elderly man who died on the roads had already been told to stop driving.
Ewen Donaldson, 86, and his wife Dulce, aged in her 60s, were killed when Mr Donaldson drove the wrong way down Auckland's northwestern motorway off-ramp at Te Atatu on 24 July, 2010.
Four months earlier, a senior medical officer from the Counties Manukau District Health Board had written to police and the New Zealand Transport Agency to say Mr Donaldson continued to drive even though he did not hold a current driver's licence and was putting himself and others at risk.
In spite of warnings from the DHB and the NZTA, he continued to drive.
Police told an inquest there was no record of the letter having been received.
NZTA spokesman Andy Knackstedt said the agency would carefully review the coroner's findings.
"We note that Mr Donaldson did not pass the occupational therapist assessment undertaken as part of the older driver licence renewal process, and as a result his driver licence was not able to be renewed," Mr Knackstedt said.
"The NZTA subsequently wrote to Mr Donaldson pointing out that he was not entitled to drive without a licence."
Mr Knackstedt said the NZTA urged the families of older drivers to be aware of physical changes that could affect their safety on the road, including changes in vision, reaction time, and flexibility.
"If there comes a time when it is no longer safe to drive, older people will need support to retire from driving while still maintaining their mobility and independence."
A spokeswoman for the Counties Manukau DHB said the board did not want to comment any further.
On the night of the crash Mr Donaldson had stopped at a petrol station to ask for directions to south Auckland and appeared "not fully alert", the attendant told the inquest.
After he drove off he hit another car while going through a roundabout, but failed to stop when the other car indicated for him to do so.
Soon after he drove past 'No Entry' signs and onto the motorway, into oncoming traffic, Coroner Katharine Greig's finding said.
The car travelled about 100 metres against the flow of traffic before colliding with two oncoming cars, causing it to flip several times before landing on its roof.
Three other cars crashed as they swerved to avoid a head-on collision.
Mrs Donaldson died at the scene of the crash.
Mr Donaldson was taken to Auckland City Hospital with broken ribs, a fractured breast bone, and severe lung injuries which, in addition to his pre-existing chronic pulmonary disease and cognitive decline, were not considered survivable, according to doctors.
He died the following night from chest trauma, Coroner Greig found.
- APNZ