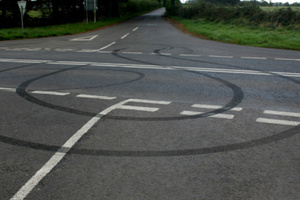 A teenager who took part in Friday night's boy racer cruise to Nireaha said they chose the town because it was the "middle of nowhere" and the halfway point for drivers from Wellington and Manawatu.
Furious locals in the north Wairarapa town discovered the remains of a roadside party outside their local hall, with piles of discarded cans and bottles, and the road seal damaged and strewn with black rubber.
Dylan Tehuia, 18, from Waverley, was swiftly outed on Facebook following the Times-Age story on Monday.
His own Facebook page included strong discussion on the need for legal skidpads for the car fraternity.
"Got news papers ringing me now about friday nyt, give us some open skid pads and use wont have trouble [sic]," he posted.
When the Times-Age contacted Dylan at his workplace yesterday, he admitted the local reaction to the mess was "fair enough" but stressed they needed somewhere legal to go.
He thought around 200 cars met up at Nireaha and were there for an hour.
"It was just another night," he said.
"There's meets every Friday. It was just somewhere different, meeting halfway between Wellington."
He said he had seen the story in the Times-Age. He was asked how he felt about the anger from locals.
"Fair enough, I suppose.
"I don't feel too bad, I didn't do any skids.
"I've already been caught once, I've only just got my licence back, I'm not that dumb."
He said he only had a ute.
"It's not exactly a skidder."
He said there was plenty of drinking but not by him.
"I'm the sober driver."
Asked why they chose the location, he said: "We figured, at least it's in the middle of nowhere."
He reckons they do not cause much damage.
"It's just the road."
Pahiatua police sergeant Jymahl Glassey said they believed the area was chosen for being out of the way.
"My guess is that they have identified a rural area where they can go to and be out of view from the majority of public, and there is less chance of getting police attention out there.
"At the time, local police couldn't attend because they were at another incident, but police attended the following day and by that time the locals had cleaned up.
"There was no damage to any buildings or property, just a whole lot of skid marks on the road."
For more articles from this region, go to Wairarapa Times-Age