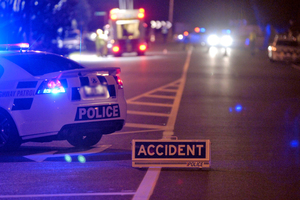 A woman knocked off her scooter at an Auckland accident blackspot is further proof safety measures need to be taken, say people who rushed to the aid of the victim.
A van turning into the Crown Hotel carpark, near the Pt Chevalier Returned and Services Association club on Great North Rd, knocked the 28-year-old off her scooter about 5.30pm yesterday, police say.
She suffered serious head and leg injuries, and last night was in a stable condition in Auckland City Hospital.
Krystal Stevens, a former Crown Hotel employee, was the first to reach the woman.
"I heard a big bang and turned around and saw what was maybe the third or fourth [injury] accident I have seen here."
Ms Stevens, who was socialising with friends at the time, said she had helped victims of the previous crashes as well.
During a decade of employment at the hotel, she had witnessed at least one serious accident a year.
Gary Glozier also rushed to the scooter rider's aid, and said it was time something was done.
"There's a real problem here. There's been a few people run over and killed outside the RSA."
Last month, Susana Hutchinson - great-aunt of rapper Scribe and singer Ladi6 - became the third pedestrian in nine years to be killed while heading to or leaving the club.
After that accident, an Auckland Transport spokesman said its road safety team was conducting its own investigation and would be in a position to recommend improvements by the end of next month.
Constable Dave Teura of the Balmoral road policing team, which looks after the Pt Chev area, said the van driver, a 25-year-old male, was likely to be charged with careless driving.
Point Chevalier blackspot
* April 2004: 81-year-old man killed by a vehicle while walking across intersection of Gt North Rd and Kiwi Rd outside Pt Chevalier RSA after visiting the club.
* July 2009: Elderly female RSA club member killed by SUV while standing in the centre of Great North Rd, 25m west of the intersection, on her way to the club.
* April 2013: Susana Luafutu Hutchinson, 70, killed trying to cross the road to the RSA from Kiwi Rd.
* Last night: A 28-year-old woman knocked off her scooter by a van turning into The Crown Hotel carpark at 1104 Great North Rd, next to the RSA.