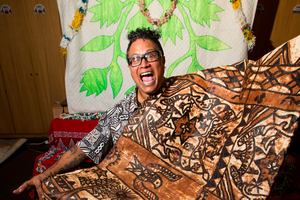 Auckland's second and the country's third most spoken language, Samoan, is being celebrated this week.
There are events and programmes happening around the country; including university debates, exhibitions and readings at Christchurch and Auckland libraries.
The Auckland War Memorial Museum is displaying Samoan literature and archival films.
Guided tours looking at Samoan artefacts and measina (cultural treasures) will also take place, as well as educational activities for students. An interactive display - Tala Pasifika - will begin today and children will learn about Samoan weddings.
Senior outreach programmer Ole Maiava said it was a chance not only to learn aspects of Samoan language, but also its culture.
"They see the dresses that you would wear to a Samoan wedding, see the tapa cloth, learn about ceremonial aspects and participate in making ula [necklaces] handed out to guests," he said.
"It starts conversation and gets them asking questions about Samoan culture and different words."
Samoans make up 50 per cent of the 300,000 Pacific Islanders living in New Zealand, and up to 63 per cent can speak their native tongue.
Galumalemana Alfred Hunkin, a senior lecturer of Samoan Studies at Victoria University, said a shift had occurred with the language.
"Back in the 70s, [Samoan] parents were trying to teach their children to speak English exclusively.
"Over the years we were losing the language and then in the 80s and 90s there was a big push to teach children their fa'asamoa [Samoan].
"Today you can study it as a language at university - at degree level. That makes me proud."
Give it a try
* Hello - Talofa lava.
* Goodbye - Tofa soifua.
* How are you? - O a mai oe?
* Good, thank you - Manuia, fa'afetai.
* Please - Fa'amolemole.
* Thank you - Fa'afetai.