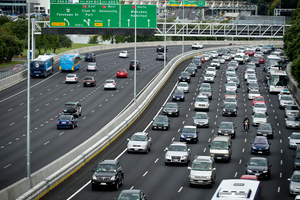 Can you find out why the motorways in Auckland are never straight lines? I assume that the planners believe that the constant "S" type bends they have built into the Auckland motorways reduce accidents.
Is this the case? If their argument is that they can't build straight motorways, I would suggest they think again. The "race track" along St Mary's Bay is a case in point.
Steve Hall, Waiuku.
We all know the old saying, 'there are no straight lines in nature', and New Zealand's motorways bear this out. The curves and bends, minimised wherever possible, are a reflection of our topography and the changing patterns of economic and social development. To build straight motorways in New Zealand would be prohibitively expensive, and cause unnecessary disruption and hazards.
As a bit of background, courtesy of the Transport Agency's website, New Zealand's roads were mostly developed from original bullock tracks.
However, our ancestors took the line of least resistance, by going around swamps, hills and sometimes alongside rivers until they found good points to cross, because it was easier, even though it took a while.
Formed roads eventually began to appear for traffic going to and from ports, goldfields, farms and elsewhere. Today's highways carry heavy, sophisticated and expensive vehicles, but might well lie on the foundations of bullock tracks established 150 years ago.
And for the statistically minded, the longest stretch of straight road in the state highway network is on SH7 through Culverden in the South Island, with a straight section 13.7km long. Some local roads on the Canterbury Plains have even longer straights.
SH1 between Turangi and Waiouru (the Desert Rd) is the highest pass on the state highway network at about 1074m above sea level. The highest state highway is SH48 (the Bruce Rd) leading to the Whakapapa Village, at approximately 1153m.
The highest sealed local road pass is the Crown Range Rd in Central Otago between Queenstown and Wanaka at about 1076m.
At the new Papakura motorway offramp there is a new high fence blocking off the residential homes. This fence is made up of unusual colour ways. Near the beginning as you turn off the colours are okay but by the end it looks like they were using up all the leftover paint they could find to finish painting. We are wondering if there is a technical reason for this or just unfortunate design.
Diane Waite, Alfriston.
The high fence is a noise wall to help shield homes from the nearby motorway. The Transport Agency says that where possible, it tries to avoid constructing plain or bare noise walls along its network in favour of something more pleasing on the eye that better represents the location. In this case, the blue, green and brown colours painted on the noise wall reflect the nearby Pahurehure inlet, and rural land around Hingaia and Papakura.