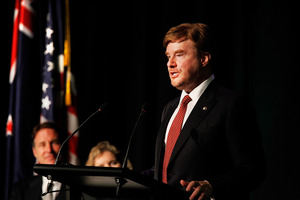 US Ambassador to New Zealand David Huebner wore an Anzac poppy as he lay a wreath to commemorate his nation's fallen soldiers at a Memorial Day service in Wellington today.
About 200 guests including US Marines from the US Embassy and New Zealand Defence Force personnel gathered for the ceremony at Old St Paul's Cathedral.
Mr Huebner laid a wreath to honour the lives of the men and women who have died while serving in the US defence forces.
He said Memorial Day was a very special day for Americans, just as Anzac Day was for New Zealanders and Australians.
"Both are days of remembrance and reflection - of honour and tribute.
"I know that here today are men and women who have served their country in various conflicts around the world. I am honoured to be addressing you today."
Memorial Day has its origins in the US civil war and is celebrated every year on the final Monday of May.
Among those who attended today's ceremony were RSA representatives, war veterans from New Zealand and the US, National MP John Hayes, Labour defence spokesman Phil Goff and regional mayors including Wellington Mayor Celia Wade-Brown.
- APNZ