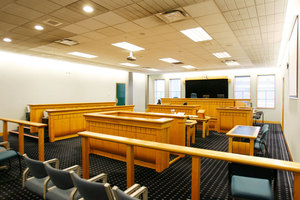 The Government will appeal against a ruling that the new legal aid system is unlawful.
Justice Minister Judith Collins said leave to appeal the Court of Appeal decision had been filed in the Supreme Court today.
The Court of Appeal decision, released on Friday, came after proceedings were launched by the Criminal Bar Association in relation to a legal aid shake-up.
The new system meant lawyers were paid a fixed fee for legal aid cases, rather than an hourly rate.
Ms Collins said she was pleased the Court of Appeal had found the fixed fees policy was not unreasonable and that cutting costs was a lawful purpose of the new act.
"Although the Court found the process of implementing the policy unlawful, and that it unreasonably restricts the Legal Services Commissioner's discretion, it rejected that the policy is unlawful in any other respect," she said.
Ms Collins said the Court reserved its decision on a remedy, so there was no clear way forward, pending clarification from the court or the result of an appeal.
The Crown has advised the Court of Appeal that it intends to continue with the status quo until a final determination is made.
"We can't simply freeze legal aid applications and payments pending the outcome of the appeal, and it's utterly impractical to immediately revert to the previous framework."
Labour justice spokesman Andrew Little said Ms Collins had "barged ahead" with the scheme against the reasonable objections of many lawyers.
"This is just another decision where it has ridden roughshod over principles of good government and basic rights to justice," Mr Little said.
"We need to hear from the Minister how she intends to preserve the independence of the Legal Services Commissioner and we need to hear from the Commissioner about how he intends to change the scheme to make it lawful and fair to legal aid claimants."
Mr Little said it was also important to know what impact the decision would have on the family court reforms, which are currently before Parliament.
The Greens said the Government should accept the Court of Appeal's finding and reverse the changes.
"The National Government has yet again been found to be breaking the law and its predictable response is to appeal the decision rather than start complying with the law," justice spokesman David Clendon said.
"The Justice Minister Judith Collins needs to ensure legal aid payments are enough so that New Zealanders get fair representation in court.
"Sadly the more likely result is another law change which means that the Government controls legal aid funding, and vulnerable groups like low to middle income earners will struggle to get representation," Mr Clendon said.