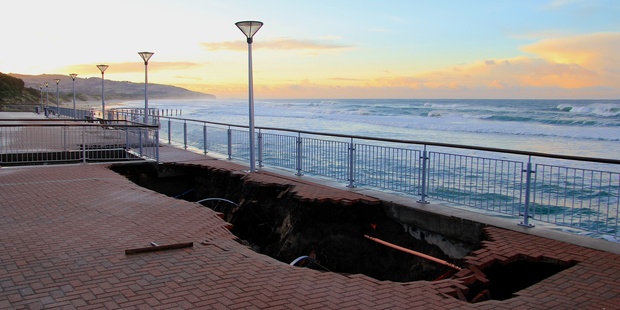 Holes, one large enough to swallow a bench, started appearing in a Dunedin street yesterday afternoon as big swells pounded the coast.
About 2.30pm police and contractors began to cordon off St Clair Esplanade from the St Clair Lifesaving Club to the car park as a precaution.
The esplanade was full of people watching the waves crashing against the sea wall.
One of the holes in the paved area in front of the lifesaving club grew from about 1m long to about 4m-long and others had also grown in size after the high tide at 4.30pm.
Another high tide is expected at 5am today with swells of 2.3m predicted and tides of similar heights are forecast for next few days.
Lifesaving Club president Antony Mason said he called the Dunedin City Council and fire service after finding the tiled area to be a "bit spongy underfoot".
"It got bad real quick, within an hour there were two holes."
The news got worse when he realised the club's ramp to the beach had moved about 20mm and water was going under the ramp's tunnel, he said.
"We've got no access to the beach and the polar plunge is in three weeks."
He had seen bigger seas and the beach in worse conditions than yesterday.
Dunedin City Council roading engineer Peter Standring inspected the site yesterday afternoon finding a significant "drop out" below the tiles.
"If you looked back underneath, the tiles were suspended."
It was for that reason the Esplanade was cordoned off, he said. While the tiles looked fine on the surface along the rest of the Esplanade, there could be a void opening up underneath.
He believed yesterday's high tides and swells shook the tiles loose but the undermining of the ground had probably occurred over time as the sea sucked material out from behind the sea wall.
"It's been an ongoing process. It highlight's the need to look at everything."
From his assessment of the site, he did not believe the integrity of the sea wall had been compromised.
Engineers would be visiting the site today to get a better idea of what was happening, he said.
The holes are the latest problem to beset the Esplanade as the stairs and ramps to the beach had failed several times due to what the council believed was a combination of construction and design faults.
The high tides also brought surface flooding to Portobello Rd and the streets off Portsmouth Dr late yesterday afternoon.