Campaign aims to show what happens when motorists' attention is not fully on the road.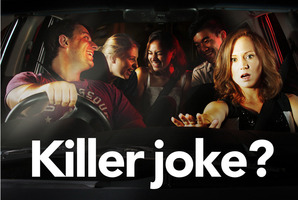 Using mobile phones, changing the radio station, eating and searching for something in the glove box are among driving distractions that claimed the lives of 20 Aucklanders and seriously injured 57 others between 2007 and 2011.
The statistics are behind a new Auckland Transport campaign.
Auckland Transport's manager of community transport, Matthew Rednall, said the agency was working with police and the Transport Authority.
"The figures for driver distraction are a real concern," he said.
In Auckland, nearly 200 injury accidents were caused by driver distraction each year, though Mr Rednall said those figures may not be a true reflection of the danger.
"Distraction crashes are under-reported and are not truly reflected in the crash statistics."
Young and inexperienced drivers were being targeted, as those aged 15 to 24 were over-represented in fatal and serious distraction-related crashes.
A series of advertisements will run in radio, print and social media.
They will include a Facebook game where players take the "Driver Challenge" to complete tasks without crashing.
Images depict young people putting on lipstick, eating, laughing with passengers and changing music while driving.
Mr Rednall said an interactive cinema campaign would also involve movie goers. An actor in the theatre would distract them during an advertisement about driver distraction.
"We think the interactive cinema campaign is a great way to reach our target audience. They can go and tell their friends about it and follow up by doing our Driver Challenge on Facebook, which highlights the danger of distractions."
Top 10 distractions
1 Texting on a mobile phone
2 Talking on a mobile phone without a hands-free kit
3 Talking on a mobile phone with a hands-free kit
4 Changing the radio/MP3/iPod player
5 Using the GPS or navigation system
6 Passengers
7 Children in the car
8 Eating while driving
9 Billboards/outdoor advertising
10 People outside the vehicle.
As identified by drivers in an AA Insurance survey.