Growing number of 111 calls means ambulance staff working without breaks, says boss.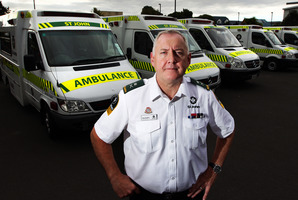 More ambulances are needed in Auckland to cope with ever-increasing 111 calls and relieve the burden on over-worked paramedics, according to the new St John boss.
Chief executive Peter Bradley said morale among frontline staff was low and they were not getting the breaks they needed on each 12-hour shift.
A trial of sending a single officer in a car to minor 111 calls - rather than an ambulance - had backfired when they were dispatched to jobs they could not handle.
But as up to four ambulances were taken off the road on each daytime shift, there were often long delays for back-up.
Mr Bradley, who had yet to start when the pilot began last November, said single-crewed cars had been successful overseas but needed to be running alongside - not instead of - fully crewed ambulances.
"The cars, in my view, are here to stay. There were teething issues, as is often the case with these new trials. I think initially we didn't get the resourcing levels right but it's settling down well.
"But we are very clear. We don't have enough ambulances in Auckland. Demand is up year on year and ambulance cover has remained static.
"We've been talking to the Ministry of Health and with the [district health boards] in the last few weeks. That's the fundamental issue we have from a resourcing perspective."
Just one ambulance costs around $1 million to run each year and the ambulance arm of St John already recorded a loss of $15 million last year - nearly double the loss five years ago.
Overall, the charitable organisation's coffers are propped up by donations and profits from other divisions, such as first aid training and medical alarms.
Mr Bradley declined to say how many ambulances were needed in Auckland until St John had finished a nationwide review of resources.
But he said an extra three ambulances had been rostered on to shifts in recent weeks.
St John was in discussions with the Ministry of Health and the Accident Compensation Corporation which provides 80 per cent of total funding, around $220 million each year.
"I want to satisfy myself that whatever resources we've currently got, are we using those to the best of ability? Then what changes do we need to make to that? Then we can go to the Government and say what additional support we might need."
Mr Bradley, who returned to New Zealand after a successful stint running the London Ambulance Service, acknowledged the toll that ever-increasing 111 calls - around 4 to 6 per cent each year - took on his frontline staff.
Results from a recent employment survey "were not as good as they should have been".
"Paramedics in Auckland and parts of Canterbury, because of resourcing challenges, are going from job to job to job without getting the breaks they should get.
"That makes them feel undervalued and working too hard and that management should be doing more to support them.
"And I've heard that from many, many staff in Auckland. So that's not in doubt. We recognise that we need to do more. And equally, volunteers need to feel more valued."
Mr Bradley said his job was to instil a sense of belief "that things are going to get better" and the key to that was a strong focus on patient care.
A restructuring of senior operations management, revealed by the Herald this month, would provide greater consistency across the country, he said.
"I wanted more transparency and accountability from district management level all the way through to me."
Tomorrow: Why St John wants medical data on patient survival rates.