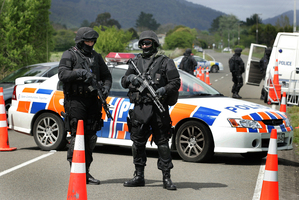 Police Minister Anne Tolley has apologised for unlawful road blocks and searches during the Urewera raids, but says a Government apology is a matter for the Prime Minister and his advisers.
Her comments this morning come after an Independent Police Conduct Authority (IPCA) report found in some areas police acted "unlawfully, unjustifiably and unreasonably" during the raids.
The 2007 raids resulted in 18 people being arrested, four of whom were left facing charges.
Police Commissioner Peter Marshall has apologised for mistakes made by police but not for the investigation, which focused on alleged military-style training camps in the remote Urewera Forest.
Mrs Tolley echoed his apology on TVNZ's Q+A programme this morning.
"As Minister of Police I'm standing right alongside the Commissioner. I'm very sorry that the police did exceed their authority with the roadblocks and some of the search warrants - I'm very sorry that that happened."
But asked if a fulsome apology from the Government might make it liable for compensation, Mrs Tolley indicated that was not up to her.
"Better powers than myself will give advice to the Prime Minister and therefore to the Government on the long-term issues, but at the moment I'm saying that the police have apologised, I think that's appropriate, and I'm standing behind the Commissioner."
Mrs Tolley acknowledged there had been real concerns within the Ruatoki community.
"But I think that's the reality. I've never witnessed a full-scale police raid operation like that with the men in black, just seen them on TV.
"That's not the way we perceive our police - we don't have an armed police - so I think it's understandable when that scale of operation happens in a very small, isolated community that people will feel distressed.
"And I thought it was quite proper that the Police Commissioner went last year and opened dialogue and made an apology to the innocent people in Ruatoki."
Mrs Tolley said she and Mr Marshall were having discussions about implementing the IPCA's recommendations, specifically those relating to operations in small and isolated communities.
Mrs Tolley said some changes had been made in 2009 and it was unfair to suggest police were reluctant to implement recommendations.
"What I don't see is a reluctance from police to make changes to the way that their operations are, to give the public better confidence.
"They are very conscious. They take these sorts of recommendations, these sorts of findings, extremely seriously."
Mrs Tolley said she would "absolutely" step in if she did not see that.
She denied police were guilty of institutional racism, which was backed by the IPCA report.
IPCA chairman Sir David Carruthers' report said the detention of the occupants at five properties of the 41 properties raided was "unlawful and unreasonable".
Police were also criticised for the unnecessary stopping and searching of vehicles and taking 66 photos of drivers and passengers, including children. It left some people feeling "degraded and intimidated".
Activist Tame Iti, who was one of the four convicted after the raids, has signalled he may consider legal action against police.
- APNZ