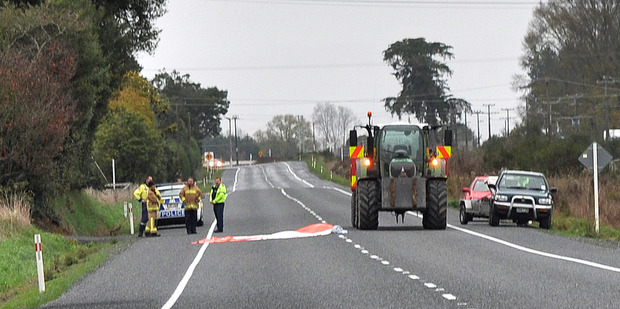 Did you witness the incident or do you know any further details? Email us at newsdesk@nzherald.co.nz
A Rotorua man has been arrested and charged with kidnapping after a woman was mutilated as she was dragged behind a car for a kilometre on State Highway 1 yesterday.
The 37-year-old woman, who OneNews have named as mother-of-three Ana Eriepa, was taken to Waikato Hospital with critical injuries to much of her body after the incident between Putaruru and Tokoroa early yesterday afternoon.
The hospital said she was in a stable condition in an intensive care unit this morning.
It is understood the Eriepa was trying to escape an alleged kidnapper when she climbed out the back of the car, but was caught up and dragged about 1km over coarse asphalt.
Horrified motorists travelling between Putaruru and Tokoroa watched the drama unfold from their cars, saying the young woman's body was "like a dummy bouncing up and down".
One source said blood stretched a kilometre along the road.
Amazingly, Ms Eriepa was still responsive when medics reached her at the small settlement of Lichfield.
Police would not comment yesterday but revealed this morning that an arrest had been made.
Rotorua police say the 26-year-old man that was arrested was known to the victim. The man is due to appear in Rotorua District Court on Monday morning on a kidnapping charge.
Detective Senior Sergeant Greg Turner said witnesses described Ms Eriepa falling from the boot of a dark coloured Subaru sedan before being dragged for a substantial distance.
Police wanted to speak to anyone who saw the Subaru sedan between Rotorua and Putaruru late yesterday morning and early yesterday afternoon.
Mr Turner said police have had excellent cooperation from a number of witnesses to event, but they needed help to establish how and where the victim came to be in the boot of the car.
The critically-injured victim was flown by Westpac rescue helicopter to the intensive care unit at Waikato Hospital with particularly serious damage to her lower legs, pelvis and head.
One source said the Eriepa's kidnapping was thought to be domestic-related. However police said this evening that it did not appear the two were in a domestic relationship.
It was understood she was trying to flee her kidnapper through the car's back hatch when she became snared.
Horrified motorists behind the car raised the alarm at 1.47pm as the vehicle sped north towards Putaruru.
Witness Bernard Trumper was driving his tractor slowly along the main road when he came across the car and the injured Ms Eriepa lying on the road.
Mr Trumper positioned his tractor across the highway to stop other traffic careering into the woman and went to her assistance.
The woman was in "a hell of a mess", said another Lichfield man.
"I've heard that there was a girl that was trapped in the boot of a car and they didn't stop and she was dragged behind, for about a kilometre I'd say - from the chook farm in Lichfield to the Lichfield straight."
Police have reopened the five-kilometre stretch of State Highway 1 to one lane, but are advising motorists that there will continue to be delays and to avoid the area if possible.
- APNZ