Prison bosses won't say how RSA triple murderer obtained a guard's anti-stab vest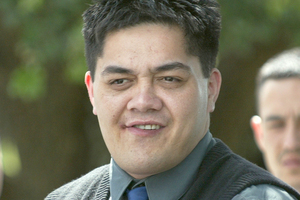 One of New Zealand's most notorious killers, William Bell, has been caught with a prison officer's stab-resistant vest in his maximum security jail cell.
Bell is serving an unprecedented 30 years without parole for the 2001 Mt Wellington RSA slayings.
Locked up in Paremoremo Prison's most secure wing, Bell was stabbed in the eye by another inmate, fellow murderer Dean Shepherd, in 2007.
The vest which Bell obtained was a Corrections Department tactical response unit stab vest, given to prison officers for dangerous incidents such as riots.
A prison source confirmed this week that the vest was found, although Corrections refused to confirm Bell's involvement.
The vest is not the first piece of contraband uniform obtained by Bell, who killed three people while robbing the Mt Wellington RSA.
Bill Absolum was shot and killed, and Wayne Johnson and Mary Hobson were bashed to death.
Susan Couch, who worked part time doing the club's accounts, was badly injured but survived.
Bell has previously been caught with prison officer trousers and he wore a police issue shirt to trick his way into the closed RSA.
Auckland Prison manager Tom Sherlock yesterday said a vest was "recovered" but refused to give details.
"A Corrections vest was recovered by staff and an audit has been completed and all vests have been accounted for," he said in a statement to the Herald on Sunday.
"It is yet to be determined if the prisoner will face internal charges.
"For security reasons, Corrections does not usually comment on items found in relation to individual prisoners."
The prison source said embarrassed staff had tried to cover it up.
"This is part of the riot kit being left behind by some dumb-ass staff member and a prisoner ends up with it. They are lucky they weren't hurt because usually there is pepper spray and cuffs attached to it."
In a second separate unrelated incident, a Corrections Officer had hot water poured over him by another prisoner.
The officer is recuperating and being treated at home.
The source said the prisoner who threw the water was Wiremu Haare, who was sentenced to life with a 10-year minimum term in April 2011 for the fatal stabbing of 37-year-old Kelly Noema in August 2009.
Sherlock said the incident was still being investigated.