Psychiatric inpatient says DHB promotes cigarettes.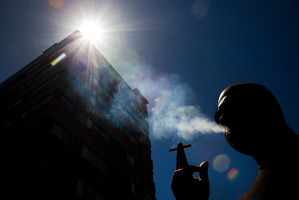 Patients in closed mental health wards at Waitemata District Health Board are allowed out for cigarettes as a reward for good behaviour, a patient alleges.
A woman who has been a frequent patient at open and closed wards made the claims in a court affidavit submitted to a judicial review in the High Court at Auckland.
The review seeks to overturn a smoking ban in closed, intensive-care mental health units. The judge has reserved his decision.
The woman, who cannot be named, said she had observed nurses approach patients several times and announce they would be taken outside for a cigarette. She felt smoking was used to reward patients for good behaviour and punish others for bad behaviour or for failing to comply with rules.
Lawyer Richard Francois sought the review on behalf of the woman and two other patients, one of whom was represented by a former nurse.
Waitemata DHB has a blanket smoking ban but some patients can walk to the site's boundary to smoke.
In a statement released to the Herald on Sunday this week, the board said: "We are unable to comment further as the matter is before the courts but it is important to recognise the negative impact smoking has on a person's health. We would be failing in our duty as a healthcare organisation if we weren't actively promoting a non-smoking culture."
One exception to the smoke-free rules is Hillmorton Hospital for psychiatric patients in Christchurch. Hillmorton once had a blanket smoking ban, but Canterbury DHB chief of psychiatry Dr Sue Nightingale said acutely unwell inpatients were temporarily allowed to smoke in designated outside areas within the acute unit.
"The smoking ban was causing distress to people who were admitted already in an afflicted state, and there were problems with people constantly wanting leave when they really wanted it just to be able to smoke."
The rules changed this year. "While we have fewer incidents related to conflict around smoking and patients going on leave, we remain totally committed to the principles around smoking cessation and support a smoke-free environment in principle," she said.