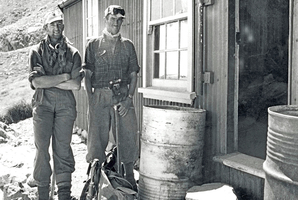 On this day 60 years ago, a strapping mountaineer from Auckland wrote in his diary: "George, Greg, Tenzing and I plus eight Sherpas (five to South Col and three Ridge men - Ang Nima, Pemba and Ang Pemba) set off for South Col."
The simple entry from Ed Hillary, then 33, was the build-up to the conquering of Everest three days later and 60 years on, there will be celebrations in New Zealand and London this week.
Hillary's diary entries - posted online each day by the Auckland War Memorial Museum - still delight six decades later. His entry from May 26, 1953 continued: "I led all way and Tenzing and I went pretty quickly. Things were going alright so I went on ahead. Got great thrill from watching progress."
Sir Edmund died in 2008 and his children will be central to the celebrations. His daughter Sarah will speak at the Auckland Museum on Wednesday with climber Peter Cammell, the 37th New Zealander to climb Everest. This week, the Queen and Prince Philip will be joined by Sir Ed's son Peter at a ceremony at the Royal Geographic Society to commemorate the conquest.
At the ceremony, the Mt Everest Foundation will announce an extra $110,000 in awards.
Secretary Bill Ruthven told the Herald on Sunday yesterday that the new awards would take the total grants to more than $185,000 next year.
Daniel Joll, one of New Zealand's's top mountaineers, said grants were essential for young climbers.