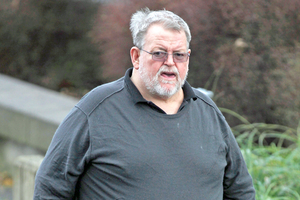 The former wife of a dead conman has been convicted of forging a fake dog lease in an attempt to extort $15,000 from a voluntary animal shelter.
Donna Wilson, the ex-wife of convicted fraudster Max Heslehurst - who died from obesity complications last year while facing further fraud charges - will be sentenced on Monday for the forgery, which was to be heard in the Disputes Tribunal.
The saga began when Wilson, a dog breeder from Horotiu near Hamilton, gave away a dog to a woman in Manawatu in April 2011.
Eventually, the dog was picked up by the pound as a stray and taken to the PAWS Animal Shelter in Fielding, which promptly advertised the Belgium Shepherd Groenendael on Trade Me to be rehomed.
Director Lesley Butler said a woman rang claiming to own Carter the dog, but as soon as she discovered it was shelter policy to microchip, vaccinate and desex all dogs before they are rehomed, the situation turned nasty.
Desexing Carter meant Wilson could no longer breed from him.
Mrs Butler said what ensued was eight months of threats and intimidation from Wilson and the now-deceased Heslehurst, in an attempt to have the dog released un-neutered.
"It was very intimidating, very aggressive. They sent a nasty letter to my boss and said things like 'I'm going to destroy you' and 'We know where you live'."
The pair threatened legal action, accused Ms Butler of theft and reported the shelter to police.
They also contacted local vets and demanded Carter not be desexed.
Wilson claimed to have originally sent Carter to Manawatu woman Louise Thompson with a lease agreement which claimed was returned signed.
But Ms Thompson said there was never a lease, she did not sign anything and it was her understanding Carter was "free to a good home".
Wilson then took the case to the Disputes Tribunal but by that time, Ms Butler had researched Heslehurst - also known as "Fat Max" for his once 190kg frame - and found that he was guilty of more than 150 dishonesty offences in New Zealand and Australia during a prolific career as a con-artist.
The Tribunal referee ended the case when Wilson was arrested and charged in April last year.
In Judge Arthur Tompkins' reserved decision on Wilson's defended hearing, released last month, he that found Wilson made many of her assertions against PAWS under the letterhead of North Waikato Collections, a debt collection business which Heslehurst was directly associated with because he had a "considerable talent for finding people", according to his lawyer Michael Meyrick.
Judge Tompkins concluded that Heslehurst created the lease "because of the stylistic, grammatical and syntactical errors which are also found in the spurious notice under the Animal Welfare Act which he created".
He rejected Wilson's evidence that a lease accompanied Carter to Linton and found the signature of the fake lease did not match Ms Thompson's.
He said the lease was likely created on Wilson's own computer during which time the wrong microchip number for Cater was inserted into the document.
Not only did Carter not have a microchip, but it was his mother's number which was listed on the form, "which itself shows that whoever created it had access to the defendant's breeding and related records".
Ms Butler said if Wilson had gotten away with her plan to extort $15,000 from the shelter, money that Wilson claimed would cover the cost of her lost ability to breed from the dog, it would have forced the volunteer charity to close because it relies on donations.
She was "thrilled" that Wilson was convicted of the crime, punishable by up to 10 years in prison.
"At the end of the day people have to stand up to these sort of people. If you don't that's how they get away with it."