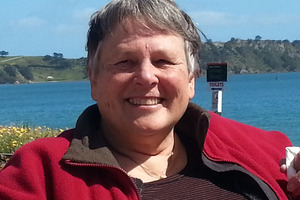 The family of Supreme Court judge Sir Robert Chambers have suffered a second tragedy with the death of his sister - who was so shocked by the news she collapsed when told he had died.
Barbara Mitchell learned of her brother's death on Wednesday morning in a phone call from their sister Sally. She managed to call out to her husband Mark as she fell to the ground.
Barbara Mitchell's son Peter Mitchell, 42, said his mother hadn't been well the previous day.
"What we now know is that was the start of a bleed in the aorta so she had [undiagnosed] heart disease ... the prognosis in the end was the news - she was talking to my aunty Sally who was relaying the news - and it was that that would have caused her high blood pressure to go up.
"Because of the high blood pressure her heart couldn't sustain it ... She was predisposed to it happening but the rupture occurred because of the stress."
He told the Weekend Herald she was still on the phone. "That's the sad thing. She called out to Dad because she thought she was having a heart attack ... I'm not sure if there's much difference, but, long and short of it, she had chest pain and called to Dad and he called an ambulance."
The 69-year-old was rushed to hospital but died before Peter Mitchell and his siblings Susi and John could get there.
Peter Mitchell said his mother and uncle were very close.
"There was 10 years between them ... And in fact my Mum said she learned how to bring us kids up by watching her Mum bring Rob up. So there was a special relationship between the two of them."
They were especially close because two years before Sir Robert was born, their eldest sister Ann died in a bike accident. The family said if Sir Robert were alive, he would have spoken at Barbara's funeral.
"The natural person to have done it would be Rob, he was a gifted speaker."
He said the family were devastated but "comforted by a strong faith".
He hadn't spoken to Sir Robert's wife Deborah Hollings, QC but said she would be "devastated".
It also emerged yesterday Justice Chambers was to be knighted in the Queen's Birthday Honours for services to the judiciary. The Governor-General, Lieutenant General Sir Jerry Mateparae, confirmed it had been awarded posthumously.
Sir Jerry said the appointment was approved by the Queen before Justice Chambers' death and was to have been announced on June 3.
"Given the special and very sad circumstances, his appointment has taken effect from 20 May," Sir Jerry said. "As at that date, he is now entitled to be referred to as Sir Robert Chambers, KNZM, QC."
A spokesman for Government House said a deceased person receiving an honour which the Queen had approved before they had died happened on average once a year.
Sir Jerry said Sir Robert, who died peacefully in his sleep, would be remembered as one of New Zealand's great legal minds. "His untimely death at such a young age is a significant loss to the legal community and to New Zealand."
Mrs Mitchell's funeral will be in Hamilton on Tuesday, a day after her brother is farewelled at a service in the Auckland Town Hall.