Cat among pigeons in feud between rival residents over fees and management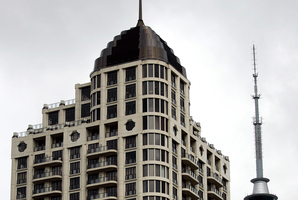 It was built as the pinnacle of luxury and outstanding architectural design but is now at the centre of bitter battles, as residents lurch from one scrap to the next.
The fight within the walls of the Metropolis, Auckland CBD's 40-level apartment tower, has drawn in some of the city's wealthiest people, who have hired lawyers to slug it out against one another.
In the last week, dirty laundry aired from the tower has ranged from the legality of a Burmese cat's residency to the multimillion-dollar running fees that residents must pay and that have sparked resentments.
On the one side is Peter Francis, formerly of the Force property empire, Sally Synnott, who founded clothing chain Pumpkin Patch, and optometrist Roger Apperley.
On the other side are Concerned Owners Group members, including businessman Tony Howard, property investor Mira Oh, Ray White real estate agent Alexander Babukhin and others.
The latest round of combat has seen the group claim victory against the former body corporate committee on the eve of a court battle over the tower's management.
Tony Howard, new Metropolis body corporate committee chairman and group member, this week wrote to owners saying a building management agreement could be struck after litigation was staved off.
The new deal ends a five-year management agreement, struck by the previous members of the body corporate whom the group has been battling for some time.
A High Court challenge against the renewal of the building management agreement until 2018 has now been avoided, Mr Howard said.
High-profile body corporate manager and rental business Crockers had also been let go, Mr Howard said, given a month's notice that its contract would be terminated.
Calls had been put out for an experienced new manager to ensure owners paid "fair market value" for services provided, but "given recent events", Crockers had been locked out of that process.
At issue is how much owners pay for services such as cleaning, security, maintenance and repairs in the 412-unit tower. In 2008, the fee was $700,000 but internal documents show that is only part of what it costs to run the building, which has a pool, spa and gym.
The Concerned Owners' Group has challenged the fees that occupants pay, saying they are high compared to other apartment complexes.
There has been another complaint that owner Mira Oh was keeping a cat when the animals are banned.
Ms Oh said most New Zealanders loved cats, her pet was extremely dear to her and she didn't want people talking about it. The topic featured on Jim Mora's National Radio afternoon panel discussion when retired police officer Graham Bell wondered how a feline would get in and out of such a tall place.
While some residents said the cat's instincts were askew and it was a hopeless hunter, Ms Oh said the cat had only been in her ground-floor Metropolis office. She owns a number of tower apartments.
"I trust you that you would not make an issue with innocent creatures as we New Zealanders are caring for animals," she said, downplaying the cat's residency.
Mr Howard complained that Crockers had refused to give him a copy of the body corporate service agreement until its business services manager, Jean Holt, returned to New Zealand next month.
"This is disappointing and has hindered progress. Hopefully Crockers will change its stance and provide us with those agreements shortly," Mr Howard said.
But Crockers hit back at his criticisms, writing to owners and saying it felt it had to respond to inaccurate information and allegations the business had refused to provide correspondence.
Crockers said it did not hold copies of the maintenance-related contracts because these were held by the building managers.
"At no time did we either refuse to provide them to him or did we suggest that he should wait until Jean Holt returned on June 4. We did, as requested, provide Mr Howard with the other contracts which we had available," Crockers wrote.
Mr Howard said legal advice was being sought about the election process and complained that he had been having trouble getting Crockers to comply with instructions about writing to Metropolis owners.
"This is why you have received this email directly from me, rather than through Crockers," he said.

High stakes
Main players
• Ex-body corporate owners committee: Roger Apperley (chairman), Peter Francis, Sally Synnott, John Morris, John Carter, building manager Dave Burgess.
• New committee, confirmed by legal advice, comprises seven members who received the most votes at the body corporate May 1 AGM. They are Tony Howard (chairman), Alexander Babukhin, Peter Malin, Mira Oh, John Carter, Julia Best and John Chen.
Fights over
• Annual cost of tower management
• Body corporate committee seats
• If Crockers stays until 2018
• Who gets the management contract
Flash points
• 2011: Mira Oh's cat's residency draws complaint
• April 23: John Chen seeks to injunct body corporate committee for defamation
• May 1: Firey AGM to elect new committee
• May 3: High Court rejects Chen's injunction
• May 8: Second extended AGM
• May 14: New body corporate committee meets
• Wednesday: Tony Howard claims victory over Crockers, which hits back