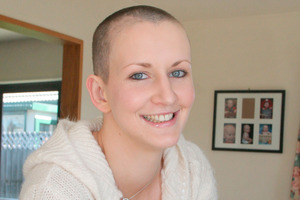 At just 24, Brenna Nation became one of the youngest women in New Zealand to be diagnosed with breast cancer.
A year later, she chose to have both breasts removed after learning she had a gene that made it extremely likely her cancer would return.
Then, to prevent ovarian cancer, Mrs Nation had a full hysterectomy. And all before she turned 30.
When Hollywood siren Angelina Jolie revealed last week that she had undergone a double mastectomy, the world was stunned.
But Mrs Nation understood the decision straight away.
Jolie's surgery came after she was found to be carrying the BRCA1 cancer gene, giving her an 87 per cent chance of developing breast cancer and a 50 per cent risk of ovarian cancer.
Mrs Nation carries the similar BRCA2 cancer gene, and for her the decision to have the life-changing surgery was simple.
In February 2007, Mrs Nation - whose first child, Benji, was then only a few months old - was diagnosed with breast cancer.
She underwent a lumpectomy and chemotherapy and in February 2008 had both breasts removed in a bi-lateral mastectomy.
"My thoughts throughout the entire journey was that I wanted my child to know that I did everything humanly possible to be there for as long as possible - to know that I fought incredibly hard for him," she said.
"It was never about me - it was always for my family."
Mrs Nation's husband, Andrew, backed her decision without hesitation.
"Andrew was so laid back, supportive and understanding - he was a godsend. Always there for me, he took everything in his stride and had a strong shoulder for me to melt down and cry on."
The couple went on to have two more children - Blake, now 4, and Jemima, 2. Mrs Nation was thrilled to be able to conceive two healthy babies while going through invasive treatments.
In 2010, Mrs Nation booked in for a full hysterectomy, which is the removal of the uterus, ovaries and cervix.
Jolie has said she is planning to do the same.
Said Mrs Nation: "That was something I did for preventive purposes. I didn't want to have gotten as far as I did from the breast-cancer fight to get knocked down or beaten by ovarian cancer.
"So that was easy - take it all so I can live my life with my family. I had my babies, and three beautiful children is a huge blessing.
"I always thought I could never regret anything because it was all my choice. I chose to get out of bed each day thinking I had made a well-informed decision, and it was for family. A few of my decisions may seem hasty but they were for the best reason ever."
Mrs Nation's mother and aunt also underwent full hysterectomy operations.
"The risks of ovarian cancers grow higher as you age," Mrs Nation said, "but breast-cancer risk plateaus at around 65 and slowly decreases with age. Prevention is the best cure."
Mrs Nation said she refused to let cancer break her, and is a stronger person for it.
"I've been through the works but I can almost forget it ever happened. I have so much to be thankful for. I want to live and fight for each day."
She applauded Jolie for speaking up about her own experience and urged others in the same situation to be brave and do whatever they could to survive.
"Fight the fight, people, and live your life - what you have left anyway. You never know when your number is up."

Breast cancer facts
• Breast cancer is the most common cancer for women of all ages, accounting for 36 per cent of all female cancer registrations.
• About 2,800 women will be diagnosed with breast cancer in NZ this year.
• 370 women diagnosed will be younger than the free screening age of 45.
• Up to 10 per cent of all breast cancers in NZ are believed to have a genetic factor and up to 5 per cent of all breast cancers are believed to be BRCA-related.