Are you in Queenstown? Send your photos or video here.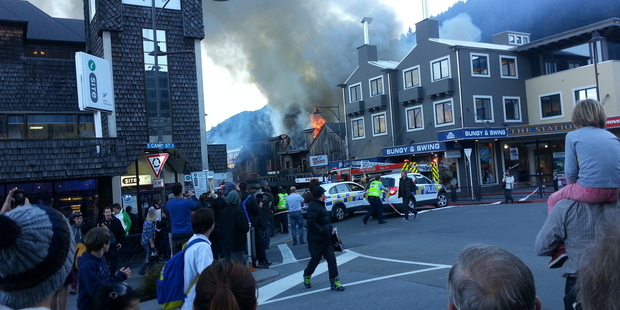 Fire crews were this evening battling a fire in a four-storey building in Queenstown's main tourist strip.
Firefighters were called to The World Bar and Fat Badgers pizza restaurant shortly after 3.30pm. The fire, believed to have originated in the one of the Shotover St building's kitchens, was spreading through the entire structure.
Crowds gathered on the street outside as flames shot from the building and plumes of smoke spread into the sky.
The building and nearby businesses, including the Station Building, were evacuated as fire crews from Queenstown, Frankton and Arrowtown tackled the blaze.
Sergeant Mark Gill understood everyone has been safely evacuated.
Queenstown man Dave Boyd, who has owned The World Bar building for three years, said he was gutted.
"We don't know [what caused it]. It's too soon to say.
"The fire brigade are doing a brilliant job. My heart sank [when I saw it].''
He confirmed the building had no sprinklers.
The World Bar is one of the most popular bars among backpackers and locals, hosting big name music acts.
Witness Simon Lynn said it looked like firefighters were fighting a losing battle.
"When it started we saw one of the cooks outside. He was in chef whites and outside looking really stressed, saying 'oh my God'. Then the fire crews arrived.''