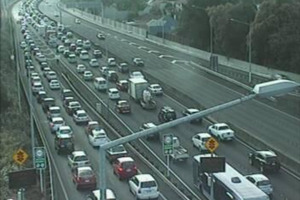 The Newmarket Viaduct is now completely open after a truck and trailer rolled on State Highway One this afternoon, but traffic is still heavily congested and motorists are being warned to expect delays.
Traffic was backed up for several kilometres this afternoon after the light truck and trailer rolled on the viaduct's northbound about 2pm.
The accident blocked two of the three northbound lanes and motorists were warned to expect long delays.
The truck and trailer have now been cleared from the road and the viaduct has reopened, the New Zealand Transport Agency said.
However, NZTA said it takes time for queues to clear, "particularly at a location like Newmarket, which is one of the busiest sections of the Auckland motorway network".
Other parts of the network could also be affected as traffic builds up during the afternoon rush hour, it warned.

- nzherald.co.nz