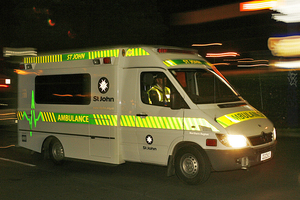 A motorist was last night fighting for his life after narrowly avoiding decapitation when the van he was driving slammed into a one-way bridge in Hawkes Bay yesterday.
The 27-year-old man, believed to be from Palmerston North, was in a critical condition in Hawke's Bay Hospital's intensive care unit.
Hawke's Bay Today understands he suffered a broken jaw, serious head injuries and lacerations to his arm from the accident, which saw the driver's side of the van deeply embedded in a concrete abutment about 11.40am.
"The van, belonging to a removal company was heading north on State Highway 50 towards Napier when it lost control and hit an abutment," said Sergeant Paul Ormerod of the road policing group. "There is extensive damage to the cab. It's amazing he didn't have his head decapitated."
Members of the public had managed to remove the injured man from his mangled vehicle before emergency services arrived. He was later airlifted from the scene by Lowe Corporation rescue helicopter.
Police believe speed and alcohol were not factors but would continue investigations on the wreck to determine if mechanical failure had contributed to the crash, which occurred in a 100km/h area.
"He's extremely lucky to be alive," Mr Ormerod said.
For more articles from this region, go to Hawkes Bay Today