Health Ministry problem gambling strategy blames bigger jackpots and says SkyCity deal will add to problems.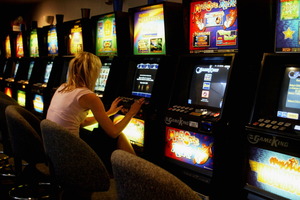 New Zealanders are forecast to spend more on Lotto, casinos, racing and sports betting in the next three years.
A three-year problem gambling strategy, released by the Health Ministry yesterday, forecasts that spending on Lotto and other NZ Lotteries games will grow by 8 per cent between last year and 2016.
It says the continuing strong growth is because of bigger jackpots in the past few years.
Racing and sports betting through the Totalisator Agency Board is forecast to grow by 6.6 per cent, largely in sports betting.
Casino spending is forecast to grow by 2.3 per cent, but experts believe the increase will be greater because the forecast was made before last week's Government agreement to let Auckland's SkyCity casino increase its gambling facilities and extend its licence for 35 years in return for building a $402 million convention centre.
"When we are seeing an increase in gambling facilities like that, we could see an increase in spending," said Problem Gambling Foundation marketing manager Andree Froude.
The deal gives the Auckland casino an extra 230 poker machines, an increase of 14 per cent from its existing 1647 machines and an increase of 8 per cent on the 2800 pokies in New Zealand's six casinos.
The Auckland casino also gets an extra 40 gaming tables, a 36 per cent rise on its current 110 tables, and up to an extra 240 table game player stations, six times its existing 40.
Consultants KordaMentha estimated that these three concessions, plus the right to introduce cashless technology for all its machines, were worth an extra $262 million to $329 million to the casino in net present value, indicating a substantial increase in annual revenue.
The Health Ministry strategy said there was likely to be some effect on problem gambling, but it could not give numbers as the deal had not then been finalised at the time of writing.
"At this stage it is unclear what the flow-on effect, if any, might be in terms of increased demand for gambling harm services," it says.
In contrast to other forms of gambling, the strategy forecasts that spending on poker machines in pubs and clubs - still by far our biggest form of gambling - will drop slightly from $854 million in the year up to last June to $849 million a year for the next three years.
Community Gaming Association director Brian Corbett said pokie spending outside the casinos might drop more, as many councils imposed "sinking lids" on machine numbers and technology changes would force venue owners to either replace or abandon existing machines in the next few years.
"Hand-pay jackpots are being removed from the domestic market by 2015. That will force quite a number of older machines out of the market, so there will be less machines and less players," he said. For further information visit www.health.govt.nz