NZ actors hobnob at ambassador Moore's film-industry gathering in Hollywood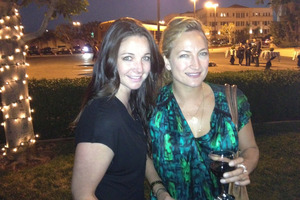 It was a case of the girl from Moerewa greeting the boy from Kawakawa last night when New Zealand actress Rena Owen met up again with her friend Mike Moore, New Zealand's ambassador to the United States, on a lot at Paramount Pictures in Hollywood.
Both are from tiny Northland towns about 5km apart.
Mr Moore was in the movie capital to host an informal reception to focus on Kiwis in the film industry.
Owen was among a smattering of New Zealand actors there.
The 250 or so people attending later saw four short films, including Taika Waititi's Tama Tu, about the Maori Battalion, and Richard Mans' Careful with that Crossbow.
Also attending was New Zealand's LA-based Consul-General Leon Grice and a planeload of Kiwis returning from the US-NZ Forum in Washington, courtesy of the NZ Air Force.
The reception was held partly in a parking lot with trucks serving hotdogs and tacos before moving into the Sherry Lansing Theatre.
Paramount Pictures chief operating officer Frederick Huntsberry welcomed the visitors.
Some former Shortland Street stars and Charles Mesure were also among the actors at the event.
Owen, who starred in Once Were Warriors, has been in and out of Los Angeles for 10 years, depending on the work. She said that from January to April was pilot season, or auditioning season, and you had to be in town to get through the doors.
She has got three lots of work.
She had landed a film role opposite Christopher Walken but the film was delayed because the inquiry into the 1982 death of Natalie Wood was reopened - Walken was on a boat with Wood and husband Robert Wagner the night she died.
She was also developing a pre-colonial feature film, she said.
Owen is 50 and admits to going grey and not enhancing her appearance as so many others in the industry do. "Check out my greys. I've got yellow teeth ... My face moves.
"Imagine if I did all of that stuff to myself and ended up looking like Joan Rivers. How am I ever going to go home and play Maori women?"
Claire Chitham, formerly of Shortland Street fame (Waverley Wilson) was there. She moved to LA in February after three years' work in Australia. "I'm being a little bit of a gypsy at the moment."
She was working on a small television series but it hadn't been released and she couldn't talk about it.
She has linked up with a group of New Zealand actors as well as creative types and Australians in LA.
"The network of Kiwis living and working in Los Angeles is really vast and lovely and nice to connect with. People doing good things."
She mentioned Rose McIver, Fleur Saville and Zoe Bell.
Los Angeles was a fun city to live in, she said. "I definitely find there are some similarities to Auckland, a lot bigger and a lot more people, but still the same traffic issues."
Mesure, at the event with friend Lisa Galvez, has been in Hollywood for 10 years. Mesure was born in Britain and raised in Australia "but the best part of my life was in New Zealand so when people ask me, I say I'm a New Zealand actor."
His New Zealand credits include four years on Greg McGee's television series Street Legal, some of which he wrote, City Life, the villain in season five of Outrageous Fortune, and sci-fi show This is Not my Life.
He has been seen most recently on New Zealand screens in the final series of Desperate Housewives, as Ben Faulkner, who played opposite Vanessa Williams.