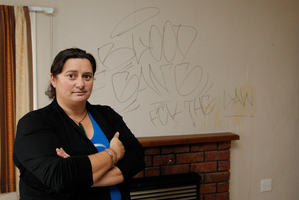 Donations have started coming in for a Hamilton family whose house was burgled and trashed by a group of children.
Hamilton City councillor Angela O'Leary has started a donation drive on her Facebook page to help Candy Atkinson and her children, whose Melville home was ransacked by the youngsters last week in what police have described as "the worst burglary in a decade".
The Herald understands other donation drives are under way by local radio station Classic Hits and the Waikato District Council.
Ms O'Leary said the response had been positive with goods and vouchers received already but she expected more people to help once word spread.
She believed the outpouring of support for Ms Atkinson and her three children reflected the outrage in the community.
"I don't know that there's a lot of faith that they [the offenders] will be properly reprimanded ... I think everyone has been shrugging their shoulders thinking, 'Well, they're minors and nothing will happen'."
Ms Atkinson and her children are staying with friends but plan to return to the home they rent once repairs and wallpapering have been completed, hopefully next week.
She hopes a laptop and portable hard-drive containing photographs of her children and family history will be returned.
The four offenders aged 12 and 13 have been referred to Youth Aid.